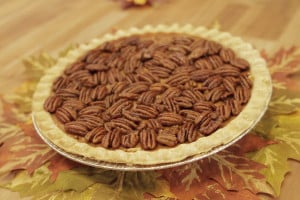 Thanksgiving is just around the corner so it's time to start planning what you will serve at your holiday table!
And as a bonus to my annual holiday menu and recipes, I've got a recipe that you can follow by watching while you cook! See how easy it is to make a delicious vegan pumpkin maple pecan pie on The Healthy Voyager's Global Kitchen hosted by Carolyn Scott-Hamilton! Get your dose of Thanksgiving early with this fun, tasty and simple vegan holiday recipe by The Healthy Voyager! Watch the video below!
As promised, I've compiled a full week of holiday deliciousness fit for vegans, gluten free eaters and all special diets. Tons of flavor and holiday flare, we've worked out the menu so all you have to do is shop, cook and enjoy the week with my very vegan Thanksgiving recipes!
Thanksgiving Eve
Eat light because you don't want to get a head start on gorging! You'll have plenty of time to do that all 4 day weekend long!
Thanksgiving Day
Let the feast begin!
Appetizers
Sides
Entrees
Desserts
Black Friday
You need your energy to fight the crowds, so start your day with a superfood smoothie along with a Pumpkin-ana Flax Muffin. Take a Pumpkin Spice Latte to go and pack leftovers for a lunch break so you don't have to deal with food courts and crappy fast food! Or perhaps a hearty bowl of Breakfast Quinoa Oatmeal!
Saturday & Sunday
Get creative with your leftovers and brunch it up!
Make time to work out, monitor portion control and enjoy your holiday!!!