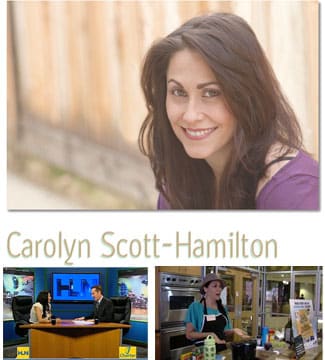 *Media Kit available upon request*
To book Carolyn for Speaking Event Bookings/Cooking Demos, Interviews, Press Inquiries,
Consultations, Partnerships and Reviews,
Please contact Ineventions PR
[email protected] 
For Sponsorship, Endorsement and/or Healthy Voyager Brand/Carolyn Scott-Hamilton Related Opportunities,
Please contact Ineventions PR
[email protected]
To book Carolyn for TV Appearances 
Please contact [email protected]
**Carolyn is fluent in Spanish so she may also be considered for bilingual events and brand opportunities**
For everything else, including product reviews, please fill out the Contact Us form
The Healthy Voyager, Carolyn Scott-Hamilton, a holistic nutritionist and chef, is available to speak at events**,
be a panelist and/or conduct demos on the topics of:
Healthy Travel
Special Diet Travel (ex. vegan, gluten free, low-fat, diabetic, etc.)
Green Travel
Healthy Business Travel
Healthy Living & Lifestyle
Green Living & Lifestyle
Holistic Nutrition
Vegan Nutrition
College Health,Nutrition and Cooking
Vegan Cooking (speaking, demos and classes)
Gluten Free Cooking (speaking, demos and classes)
Low Fat Cooking (speaking, demos and classes)
Healthy Cooking for Moms and Kids (speaking, demos and classes)
Healthy Weight Loss
And more!
BRAND OPPORTUNITIES
If you would like to work with Carolyn, her services include, but are not limited to:
Recipe Development
Cookbook Development
Spokesperson
TV Appearances on behalf of your brand
Recipe, Cooking and/or Healthy and Green Living Lifestyle Videos
Unique, Custom Content
Tweetchat and Twitter Party Hosting
Product Reviews
Giveaways
Contests
Promotions
Live Events
Social Media Events
And More!
On the business side of things, Carolyn is available to speak on the following topics:
Brand Building
Do-it-Yourself PR
Creating Your Niche Brand
Building a Great Website on a Budget
Social Media
Creating Effective Videos/Web Series on a Budget
Podcasting
Finding Your Voice on the Over Saturated Internet
And more!
**Carolyn can be booked for college and corporate events, food/eco/health/travel/lifestyle festivals and expos,  conventions and conferences,
individual coaching, small gatherings at homes and offices.
She is available for hotel, restaurant and theme park menu consultations, healthy and special diet menu item creation and more.
Businesses may also bring Carolyn in for corporate wellness programs as well
as custom health events.