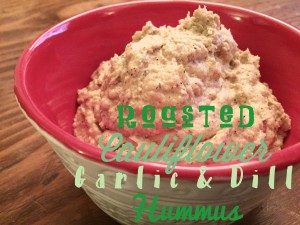 Hummus, the staple, go-to food for parties and get togethers. Also quite good in wraps and sandwiches. I love it, we all love it. And here is a twist on the traditional chick pea hummus! All veggie, roasted garlic cauliflower hummus! Easy, delicious and nutritious!
1 medium head cauliflower, broken into small florets
olive oil, for drizzling
2 cloves garlic
1/3 cup tahini
3 tablespoons lemon juice
2tablespoons olive oil
1/4 teaspoon nutritional yeast
1/2 teaspoon minced fresh dill
salt and pepper to taste
Preheat oven to 400 degrees. Line a rimmed baking sheet with parchment paper or spray with olive oil.
Place cauliflower florets and garlic cloves on baking sheet. Drizzle with additional olive oil. Roast for 30 minutes, stirring halfway through cooking time. Remove from oven and cool.
Combine cauliflower with remaining ingredients in food processor. Process until smooth. Garnish with dill and serve with pita, chips or raw veggies.