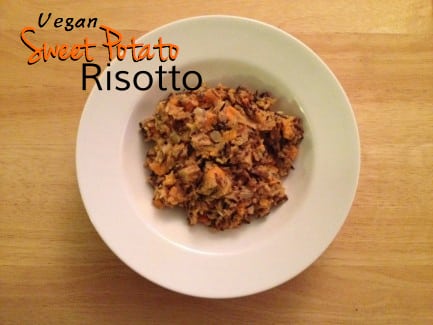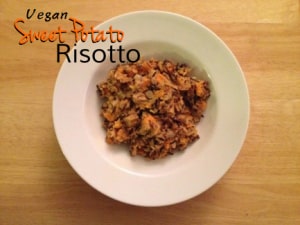 Fall is here and that means lots of pumpkins and sweet potatoes will be showing up in dishes for the next few months. They are absolutely delicious and nutritious and this risotto is nothing short of yummmm!! Vegan, gluten free and full of flavor, my sweet potato risotto is sure to please!
1 large sweet potato (about one pound), finely diced (you can also swap this out for pumpkin!)
1/3 cup chopped shallots or yellow onion
3 tablespoons extra virgin olive oil, divided
2 tablespoon melted vegan butter, divided
1 tablespoon minced garlic
Salt and pepper, to taste
1 cup Arborio rice, dry
½ cup white wine for cooking
3 cups vegetable stock or vegan chicken bouillon stock
1/4 cup vegan Parmesan cheese or nutritional yeast
Preheat oven to 425 degrees.
In a small baking pan place diced potato, shallots, 2 tablespoons of the oil, 1 tablespoon of the butter, garlic, salt and pepper. Mix around and bake for 10 minutes. Toss ingredients and bake for another 10 minutes to cook evenly.
While potato is cooking, in a medium pot, add last tablespoon of oil and butter and heat over medium high. Add rice and saute for 2-3 minutes, but do not brown. Add wine and stir. Reduce heat to medium to medium low. When wine has evaporated, begin adding stock one quarter cup at a time, waiting until each addition evaporates before adding the next. Do not let rice get completely dry before adding each quarter cup.
Once the sweet potato is cooked, add to rice (at any stage of cooking) and continue cooking rice until all of the stock is gone and rice is cooked but not mushy. Remove from heat and stir in Parmesan. Cover and let sit 3-5 minutes until the rice is fully cooked and the texture is creamy.