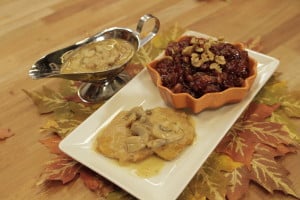 Thanksgiving is almost here!
Learn how to make not 1 but 2 Thanksgiving dishes
on The Healthy Voyager's Global Kitchen hosted by Carolyn Scott-Hamilton
and special guest, Leslie Durso!
Get your dose of Thanksgiving early with this fun episode on how to make vegan
mushroom gravy and apple cranberry chutney by The Healthy Voyager! and Leslie!
Watch the video below!
Mushroom Gravy
1/2 onion, chopped

1 clove garlic

1 tablespoon vegetable oil

1 cup sliced mushrooms

2 tablespoon whole-wheat pastry flour

1 cup water or vegetable stock

1 T soy sauce

1/2 teaspoon molasses

1/4 teaspoon each: savory and thyme

Dash of pepper
In a medium saucepan over medium-high heat, saute onion and garlic in oil until soft. Add mushrooms and cook 5 minutes over low heat. Stir in flour; cook over medium heat for 2 minutes. Add water or stock, soy sauce, and molasses. Cook, stirring, until thickened, about 3 to 4 minutes. Season with herbs and pepper. For a richer flavor, replace part of the oil with vegan margarine.
Apple Cranberry Chutney
1/2 cup water
1 1/4 cup sugar
12 oz. fresh cranberries
2 granny smith apples, chopped
1 medium onion, chopped
1/2 cup golden raisins
1/2 cup brown sugar
1/4 cup cider vinegar
1 1/2 tsp. cinnamon
1 tsp. ground ginger
1/8 tsp. cloves
1/4 tsp. allspice
Bring the water and sugar to a boil in a sauce pot.  Boil for 2-3 minutes or until sugar is fully dissolved.  Add cranberries, apples, onion, raisins, brown sugar, vinegar, and spices.  Mix well and bring to a boil.  Reduce heat to medium and let simmer uncovered for 25-30 minutes or until super thick, stirring every few minutes.  Chill and keep up to a week.  (I actually prefer the taste after it's sat a day or two)