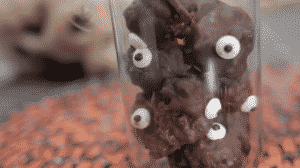 Something wicked this way comes…and it's not ghouls and goblins…it's unhealthy Halloween food, muahahahaha!! BUT you can still enjoy all the fun and flavors of Halloween as a vegan, gluten free or healthy little monster! Check out my recipes for all things Halloween from nibbles to feasts, potions to sweets!!
First, be sure to try my fun and tasty vegan, Chocolate Monster Cyclops Eyeballs Recipe from this fun halloween themed episode of The Healthy Voyager's Global Kitchen!
And if you still need more goodies, enjoy these other hauntingly good, vegan halloween recipes!
Appetizers, Sides and Snacks
Sweets
Potions