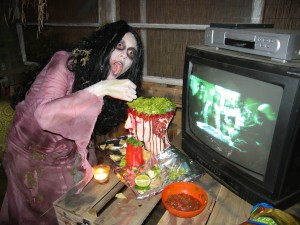 It's time for sweet treats and scary eats! if you're hosting or going to a Halloween bash this year, or even if you just want to have a little spooky fin in the kitchen with your family, try any or all of these healthy and ghoulishly great Halloween themed dishes. the full menu will take you from appetizer to dessert so go on and have yourself a ghostly good time!
Mashed Brains Guacamole
2 ripe medium avocados
1 large tomato, finely diced
1/4 cup cilantro, chopped
2 to 3 green onions, chopped (use whole onion, not just the whites)
Juice of 1 medium lime
Salt and pepper, to taste
1 teaspoon garlic, minced
1 jalapeno, diced (optional)
Combine all ingredients in a bowl by mixing and mashing with a fork.  Add more of any ingredient to your taste. Serve with chips and/or crudite.
Pasta Worms & Pumpkin Guts Entree
1 tablespoon extra-virgin olive oil, plus 1 tablespoon
1 package of vegan Italian sausage
4 cloves garlic, cracked and chopped
1 medium onion, finely chopped
1 bay leaf, fresh or dried
4 to 6 sprigs sage leaves, chopped, about 2 tablespoons
1 cup dry white wine
1 cup vegan chicken stock, made from vegan chicken bullion or from container
1 cup canned pumpkin
1/2 cup (3 turns around the pan) vegan heavy cream ( 1 block of silken tofu (12-ounces) and 1/2 cup of plain soy milk. Blend in blender until thick and creamy and there are no more lumps )
1/8 teaspoon ground cinnamon
1/2 teaspoon ground nutmeg, ground or freshly grated
Salt and pepper, to taste
1 pound penne pasta, cooked al dente
Vegan Parmesan or nutritional yeast, for garnishHeat a large, deep nonstick skillet over medium high heat. Add 1 tablespoon of olive oil to the pan and brown the sausage in it. Transfer sausage to paper towel lined plate. Add the remaining tablespoon oil, and then the garlic and onion. Saute 3 to 5 minutes until the onions are tender.

Add bay leaf, sage, and wine to the pan. Reduce wine by half, about 2 minutes. Add stock and pumpkin and stir to combine, stirring sauce until it comes to a bubble. Return sausage to pan, reduce heat, and stir in cream. Season the sauce with the cinnamon and nutmeg, and salt and pepper, to taste. Simmer mixture 5 to 10 minutes to thicken sauce.

Return drained pasta to the pot you cooked it in. Remove the bay leaf from sauce and pour the sausage pumpkin sauce over pasta. Combine sauce and pasta and toss over low heat for 1 minute. Garnish the pasta with lots of shaved cheese and sage leaves.
Witches Stew
Green curry paste (The curry paste can be made in advance, minimizing last-minute fuss, and the stew cooks quickly. Using a combination of regular coconut milk and light coconut milk reduces the calories.)
1 tablespoon whole coriander seeds, toasted
2 teaspoons whole cumin seeds, toasted
1 teaspoon whole black peppercorns, toasted
1 teaspoon coarse salt
3 serrano chiles, sliced
1/2 cup fresh cilantro
2 stalks fresh lemongrass, trimmed and chopped (1/2 cup)
8 garlic cloves, minced (1/4 cup)
2 scallions, chopped (1/4 cup)
2 tablespoons chopped peeled fresh ginger
2 tablespoons fresh lime juice
1 tablespoon finely grated lime zest (from 2 limes)
To make the stew
2 ounces spinach (1 cup)
1 can (14 ounces) unsweetened regular coconut milk
1 can (14 ounces) unsweetened light coconut milk
1 medium zucchini, quartered lengthwise and sliced 1 inch thick (21/4 cups)
2 1/2 packages of vegan chicken breasts (like Gardein), 10 filets, cut into 1-inch pieces
Salt and pepper, to taste
3/4 cup fresh basil
Serrano chiles, thinly sliced, for garnish
Saffron rice, for serving
Lime wedges, for serving
For the curry paste: Grind coriander, cumin, peppercorns, and salt with a mortar and pestle, or with the bottom of a heavy skillet. Add remaining ingredients, and grind until a paste forms. (Curry paste can be refrigerated for up to 2 weeks or frozen for up to 3 months.)
For the stew: Puree 5 tablespoons curry paste, the spinach, and 1 cup regular coconut milk in a blender until smooth. Reserve remaining curry paste for another use.
Bring remaining regular coconut milk and the light coconut milk to a boil in a medium Dutch oven or heavy stockpot. Reduce heat, stir in curry-spinach mixture, and simmer for 5 minutes. Add zucchini, and cook until slightly tender, about 5 minutes. Add chicken, and season with salt and pepper. Cook until zucchini is tender and chicken is cooked through, about 5 minutes. Add basil, and garnish with serrano chiles. Serve with rice and lime wedges.
Sweet & Squishy Ghoul Sandwiches
Cookies
1 stick vegan unsalted butter, at room temperature
1 1/4 cups granulated sugar
1 egg replacer
1 cup vegan buttermilk, at room temperature ( 1 cup plain soy milk with 1 teaspoon of apple cider or coconut water vinegar, set aside to curdle for at least 15 minutes )
1 teaspoon pure vanilla extract
1 3/4 cups all-purpose flour
3/4 cup unsweetened cocoa powder
1 1/2 teaspoons baking soda
1/2 teaspoon baking powder
Pinch of salt
Filling
4 ounces vegan cream cheese, at room temperature
4 tablespoons vegan unsalted butter, at room temperature
2/3 cup confectioners' sugar
1/4 cup canned pure pumpkin
1/4 teaspoon ground cinnamon
Pinch of kosher salt
To make the cookies: Line 3 baking sheets with parchment paper (or use 2 baking sheets and bake the cookies in batches). Preheat the oven to 400 degrees F. Using a stand mixer, beat the butter and granulated sugar until light and fluffy. Beat in the egg replacer, then the buttermilk and vanilla. Whisk the flour, cocoa powder, baking soda, baking powder and salt in a bowl. Gradually add the dry ingredients to the wet ingredients, mixing until just combined.
Drop 8 scoops of batter, about 2 tablespoons each, onto each prepared baking sheet, spacing them 3 inches apart. Bake until the edges are set but the cookies are still soft, about 8 minutes. Remove from the oven and let the cookies cool 2 minutes on the baking sheets, then transfer to racks and let cool completely.
To make the filling: Beat the cream cheese and butter in a small bowl with a mixer until smooth. Slowly beat in the confectioners' sugar until smooth. Add the pumpkin, cinnamon and salt and beat until smooth.
To assemble the sandwiches, spread a heaping tablespoonful of filling on the flat side of a cookie and sandwich with another cookie. Repeat with the remaining cookies.