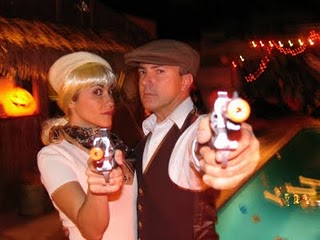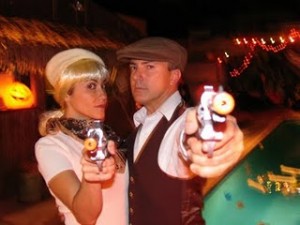 For those of you who don't know, I LOVE Halloween ; ) Dan and I love dressing up as a fun and famous duo each year – last year it was Bonnie and Clyde! The crisp air, the colors and onset of the holidays season, Halloween is nothing but a big ol' treat for me!! From October 1st on, I relish each day by burning pumpkin candles and planning which haunted houses to hit up while helping Dan build one of our own in front of our house to entertain the neighborhood ghouls on all Hallow's Eve. For the past 2 years I have offered up some healthy as well as eco ideas for a slim and trim as well as green Halloween  – you can view the past posts right here – 2007 and 2008.  Lots of fun tips and recipes to make this a rockin' Halloween for all.  Below I have also compiled some new tips and recipes to try out this year at your own or if attending any spooky festivities!!
The best new vegan chocolates on the market are by Go Max Go Foods – they are hoping to roll out the holiday fun size bars in 2010 but for now, hand these sweet treats to the best dressed kids in your hood ; )
Another great healthy candy find are Surf Sweets! Healthy, naturally sweetened, gluten free and mostly vegan (a few items aren't so make sure you read the ingredients) gummy and jelly beany treats. Awesome!
Visit and sign up for Green Halloween – it's a great resource for parents & schools to help make Halloween healthy and safe for our most precious goblins ; )
Visit school and community organized Halloween events, pumpkin patches and haunted houses.  It's a great way to help out your community while having some good clean fun.
If you are hosting a party, opt for the weekend after Halloween. This way, you can enjoy the actual Halloween night as well as the competing parties and you have an excuse to wear your costume 1 more time!  It's also a great way to rid yourself of left over candy and be able to enjoy the fun for a bit longer ; ) Or maybe, celebrate Dia De Los Muertos Day on November 1st with some creepy pinatas and fun Mexican style cuisine!
Make creative and healthy treats for your guests as well as opting for home made or recycled decorations.  Please visit my previous posts for some green decoration as well as yummy recipes to go withe the ones below:
Spooky Juice
1 oz Organic Vodka
2 splashes Blue Curacao
1 splash Grenadine
Fill with Orange juice
Mix with ice and serve in a scary goblet!
The Great Pumpkin Punch
1 Pumpkin
1 part Apple cider
2 parts Ginger ale
1 part Rum
Sprinkle with nutmeg
Serve in a hollowed out pumpkin with floating pumpkin chunks. (make non-alcoholic by removing the rum)
Cranial Cream Cheese Dip
Plastic wrap
1 small party favor plastic skull candy container
1 package vegan cream cheese
1 jar chunky salsa (or fresh home made salasa!)
crackers or chips for spreading/dipping
Set the cream cheese out to warm to room temperature. Line the inside of the plastic skull dish with plastic wrap leaving enough edges to wrap around later. Spoon the softened cream cheese into the plastic-lined skull dish, mashing in as much cream cheese as possible to pick up the most detail in the mold. Scrape any extra cream cheese off the top so it is flat. Close the plastic wrap over the flat cream cheese top and place in the freezer to set. Once set, remove the plastic wrap from the skull dish, and serve. Place the skull in a shallow dish, garnish with the bloody salsa, including inside the eye sockets, and stab with your favorite spreader. You can extend the time before needing to refill by placing the skull on half a block of cream cheese, but cover the plain cream cheese with enough sauce so you can only see the skull above the "blood."


Pump-cicles
2 1/2 lbs. butternut squash
1/2 cup pure maple syrup
2/3 cup vegan whipping cream
1/2 to 3/4 teaspoon pumpkin pie spice
Cut a butternut squash into quarters and scoop out the seeds.  Boil or bake the squash until soft. Let the squash cool a bit before scooping its flesh into a medium-size bowl.  Add pure maple syrup, vegan cream, and pumpkin pie spice to the bowl. Use a potato masher to mush the squash and blend all of the ingredients. Spoon the mixture into ice pop molds, add sticks, and freeze for at least 6 hours before serving.


Healthy & Haunted Graveyard
1/2 cup fresh spinach
10 ounces garlic hummus
Broccoli and Celery (for trees)
Pretzels (shirt, thin sticks & mini twisties for the fence)
Tofu (marinated in clear or white marinade like italian dressing & cut into ghost shapes)
Crackers (square for tombstones)
Black olives
Paint brush and black food coloring
In a food processor, puree the spinach and hummus.
To make the tofu ghosts, cut slits and insert black-olive facial features. Use the small paint brush and food coloring to turn crackers into tombstones.
Mound the dip on a tray and top it with veggie trees, a pretzel fence, tofu ghosts, and cracker tombstones to create your graveyard!
Dead Gingerbread Men
3 1/2 cups all-purpose flour
1 1/2 teaspoons ground ginger
1 1/2 teaspoons ground cinnamon
1/4 teaspoon salt
1/2 cup white sugar
1/2 cup vegan shortening
1 egg replacer
1 cup molasses
1 teaspoon baking soda
1 1/2 teaspoons warm water
1/4 cup raisins for decorating
In large bowl, cream vegan shortening, sugar, egg replacer and warmed molasses. Dissolve baking soda in warm water and add to egg replacer mixture. Beat until smooth. Slowly add flour, spices and salt. Mix until well blended. Cover and chill for 24 hours.
Preheat oven to 350 degrees F. Grease cookie sheets. Roll out dough to a thickness of 1/4 inch on a floured surface. Cut out gingerbread men using cookie cutters and place 2 inches apart on cookie sheets. Bake 10 to 12 minutes. Let cool on wire racks.
Use black icing to make an "X" where the eyes should be, you can also make a frown for a mouth using the icing. Break off some of the heads & use red icing for blood around the neck on the heads & bodies ; )
Have a very happy and healthy Halloween!! OOOOHAHAHAHAHA!!!