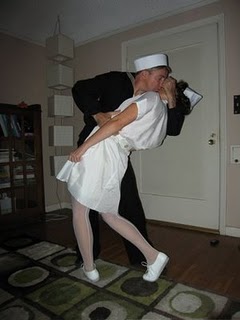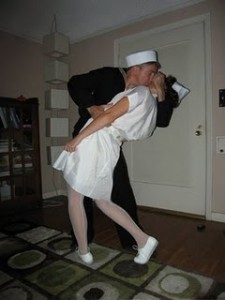 That's Dan and I replicating the famous Time Magazine photo last Hallows Eve ; ) This year we're picking another famous duo and it's a bit more Halloween themed! If you're like us, you live for the chillier nights, trees changing color and all of the clues that ring in the beginning of the holiday season. I happen to adore the season opener, Halloween!!! Here are a few tips and ideas for all of you healthy halloweeners:
Make your own costumes. Each year Dan & I raid local thrift stores and put together our costumes by just recycling people's discarded clothes. We not only get great inspiration but we save a lot of moola by not buying pre-packaged costumes. If you or a friend has a sewing machine, you can alter and embellish the garments for a unique disguise. Plus you can avoid hearing, "OMG, we're wearing the same costume" at any spooky festivities!
Use reusable cloth or canvas bags for trick or treating. You can wash them if their is any chocolate meltage and they won't tear or break saving you from disappointed little goblins ; ) Even better, personalize the bag and designate it as their personal trick or treat bag to use every year!
Environmentally conscious Halloweenites may want to bring along an extra bag for trash. Many excited little ghouls may leave behind wrappers and half eaten treats. Be a good witch and pick up what you see along your evening and make up for the naughty little gremlins ; )
Practice what you preach and hand out healthy Halloween treats like what they sell at Cosmo's Vegan Shoppe and Vegan Essentials.
If you are hosting a party, make it green:
Feature organic, locally grown pumpkins for carving, apples for bobbing, and other pesticide-free, harvest season foods. Make sure you save the leftover apples and pumpkins to use in pies, soups, or other dishes.
Use dishes, cutlery, napkins and tablecloths that can be washed and reused instead of disposable plastic and paper tableware. Also, look into potato or corn based disposables if you cannot accommodate the party with your personal dishes.
Use recycled and recyclable materials to create your Halloween decorations. Bed sheets hung from the ceiling or tree branches make great ghosts, for example, and can be taken down, laundered, and returned to the linen closet when Halloween is over.
And try this delicious, vegan treat to have at your party. It will be a scream!!:
Vegan Chocolate Pumpkin Pie
1/2 pound firm or extra firm tofu, pressed
1 15 ounce can pumpkin
1/2 cup sugar
1/4 cup maple syrup
1 tsp vanilla
1/2 cup cocoa
1/2 tsp nutmeg
1/2 tsp cinnamon
1/2 tsp ground cloves
2 tbsp soy milk
1 pre-made pie crust
Pre-heat oven to 400 degrees. Process all ingredients in a blender or food processor until smooth and creamy, adding more soy milk if needed. Bake for 30 to 35 minutes, or until set. Serve with a dollop of soy whipped cream if desired.
The Glowing Gecko (alcoholic beverage)
Have a happy and safe Halloween!!!!