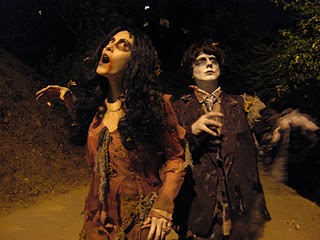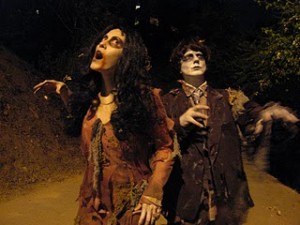 Happy Halloween!!!!!!! I know that Halloween means candy and binge drinking at crazy parties but you can still have a Boo-rific time with these healthy tips!
*Serve or bring healthier types of candy like:
* Make, bake and/or serve healthier party food like:
Witch Fingers

– Organic pretzel Rods dipped in Organic Chocolate and tipped with a Raspberry Licorice nail

Eyeballs

– Peeled red, seedless grapes
Organic Chocolate dipped apples rolled in nuts
Newman O's Organic Oreos
Salsa & Organic Tortilla Chips
Veggie Crudite with Hummus
Newman's Own Organic Popcorn sprinkled with cinnamon sugar
Spooky Decorated Perfect Vegan Sugar Cookies
* Make, serve or request healthy drinks:
Non-Alcoholic Pumpkintini

: 1 heaping tablespoon canned pumpkin
1 1/2 ounces soy creamer or soy heavy cream
2 ounces soy milk
1 ounce Fee's Spice Cordial Syrup
2 graham crackers
lime wedge

Use a food processor to grind the graham cracker into fine crumbs, and put them on a small plate. Rub the lime wedge along the rim of a cocktail glass, then dip it into the crumbs to coat the rim. Set glass aside.

Use a bar spoon to stir the canned pumpkin and creamer or heavy cream, in the bottom of a shaker. Stir in the soy milk and Fee's syrup. Add ice. Shake vigorously (at least 30 times). Strain into the graham cracker rimmed cocktail glass.
*De-Virginize: Add 1 ounce brandy (This recipe compliments of The Liquid Muse)
The Howler

: 1oz. Organic Vodka
1oz. Apple Juice
1/2oz. Lemon Juice
Add a splash of grenadine, shake and stir

Vampire

: 1 part organic vodka, chilled
1 part Chambord
1 part Hansens Natural Ginger Ale
Garnish with wax teeth or blood orange slice
Spiked Cider

: 7 oz. Hot Apple Cider with 1 oz. Organic Rum

Non-Alcoholic Witches Brew

: 1 cup organic lemon aid
¼ cup orange juice
Juice of half a lime or 1 tablespoon of lime juice
2 cups apple juice or non alcoholic apple cider
1 tablespoon cinnamon
1 teaspoon non alcoholic rum flavor
In any case, have a happy, healthy and safe All Hallow's Eve!!!