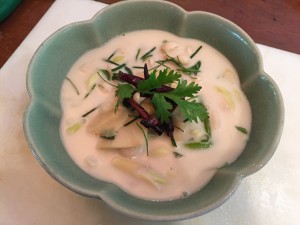 To go along with my coverage of my time in Thailand, I thought I'd share one of my favorite thai dishes with you. A vegan Tom Kha Khai Soup recipe! It's light, a bit spicy, full of flavor and oh so good! Be transported instantly without having to leave your dining room table!
1 cup vegetable stock
1 straw lemongrass, minced
1 ounce galangal, thinly sliced
2 pieces kaffir lime leaves
1 ounce straw mushroom
1 cup coconut milk
3-5 pieces bird's eye chilli, seeded and sliced into thin strips (lower amount if you want mild spice)
1 1/2 teaspoon soy sauce
1 tablespoon lime juice
1/2 tablespoon sugar
1/2 teaspoon sweet chili paste
Cilantro, for garnish
In a medium pot, bring vegetable stock to a boil.
Add lemongrass, galangal, kaffir lime leaves. Stir and simmer for 30 seconds.
Add coconut milk, mushrooms and chilli and bring to a boil.
Add in soy sauce, lime juice, sugar and sweet chili paste. Stir to combine and remove from heat.
Serve, garnish with cilantro and enjoy!