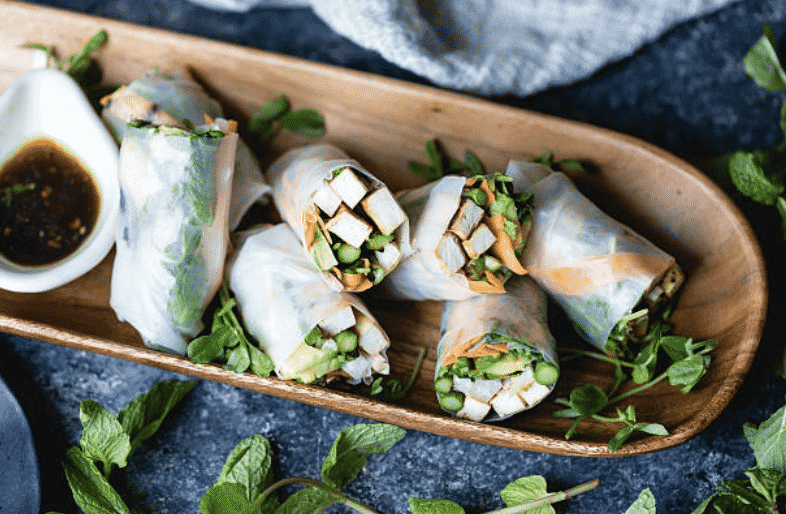 I absolutely love summer rolls as they are light, crispy and so perfect on a hot day. Plus I love that you can use anything on hand! These look fancy but I can assure you, you're gonna love my easy vegan summer rolls recipe!
1 package rice paper spring roll wrappers
 1 (5 oz.) bag baby spring lettuces
 1 hothouse cucumber, sliced
  1 avocado, peeled and sliced
 1 cup shredded carrots
 fresh mint and Thai basil
Baked tofu, cut into strips
Glass or rice noodles
Edible flowers
Peanut Sauce
1/2 cup peanut butter (unsalted, unsweetened)
 2 tablespoons wheat free tamari or coconut aminos for gluten-free
 1/2 tablespoon minced ginger
 1 clove garlic, minced
 2 tablespoons rice vinegar
 1/2 teaspoon maple syrup (or for a no sugar added option, use Lakanto monk fruit maple syrup)
 1/3 cup water
To make the sauce:
Add the peanut butter, soy sauce, ginger, garlic, vinegar, sriracha, and maple syrup to a small bowl or jar. Whisk together, then whisk in the water slowly until the desired consistency has been reached. This peanut sauce tends to thicken up over time, so add more water as needed to thin. Taste and adjust as you'd like.
To make the rolls:
Fill a wide bowl with at least an inch of warm water. Dip one rice paper wrap in the water and let soften 5 to 10 seconds. Remove from the water and lay on your work surface.
Place a few flowers around as the first layer (that way you will see them when the roll is rolled up, very artsy). Then add a small handful of the greens toward one end of the soaked wrap. Top lengthwise with the other veggies, herbs,  a slice or 2 of tofu and noodles, so it's easy to roll. Don't over stuff as the rice paper could tear.
Pick up the end of the rice paper closest to your mound of veggies and tightly wrap it over the veggies. Grab each end and fold over like a burrito. The paper will stick to itself. Continue wrapping the roll until sealed. Continue making the rolls this way until you've made all you want or are out of ingredients. Store the rolls covered in the refrigerator until ready to eat. Serve with the peanut dipping sauce.