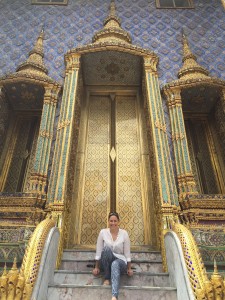 A country that's on many people's bucket lists, Thailand brings together all the best elements of an exotic beach holiday. Offering sun, sand and adventure, there isn't much more you can ask for. Plus, it's Thailand flights are more affordable than you might think, so why not treat yourself to a tour of this inviting part of South Asia which is one of the friendliest countries in the world!
Receive a warm welcome
Thailand's reputation as "the land of smiles" is well deserved. Walking around in Thailand, you'll be astonished by the number of people who will greet you with a warm smile, even people you're just walking past momentarily. Thai people will often talk to strangers without any qualms, and as a tourist you'll be approached by a range of people whether they're trying to sell things or offering to help you out and give you directions. There will always be someone on hand with smile, waiting to help so there's no need to worry about getting stuck or lost!
Experience the finest street food
Street food culture is rife in Thailand. With premises ranging from market stalls to small shacks, street food sellers can be found everywhere, and the quality of their food is often even better than restaurants. The literal translation of "gin jae" is to eat vegetarian, but the Thai vegetarian diet follows the same vegan principles. Most Thai food rarely includes dairy, opting instead for coconut milk and soy products, offering up such delicacies as tom kha khai soup. Phuket is renowned for the quality and variety of its street food, so pull up a stool and tuck into a bowl of spicy soup for a taste of the real Thailand.
https://www.flickr.com/photos/tordremme/24230280545/
What about drinks? Thailand's signature iced tea, cha manao, is a good place to start. A glass of this sweet, limey black tea is the perfect accompaniment to a hot afternoon spent on the beach. If you want something alcoholic, sit back with a bottle of Thailand's most famous local beer, Singha. Looking for something cheaper? Chang is a popular alternative with locals, and just as delicious.
See unbelievable sights
Many travelers come to Thailand in search of stunning sights of natural beauty, and they never leave disappointed. Just a two-hour ferry trip from more central parts of Thailand, the Phi Phi islands make for a fantastic day trip, and were even featured as the location for the Leonardo DiCaprio movie The Beach! The islands and their waters are protected by national park status, and it's not difficult to see why they were used as the backdrop for a film set in an unimaginable paradise.
https://www.flickr.com/photos/travelourplanet/6223251216/
A visit to Thailand wouldn't be complete without a trip to Bangkok's Grand Palace. The palace is truly unlike any other, and has certainly earned the title of "grand." Featuring traditional Thai architecture, tall, slim spires and a statue of pink elephants outside, this iconic landmark is a must-see for tourists.
The people, the food and the sights of Thailand will all leave you wishing for more. Take home some of the Thai spirit and keep smiling, and if you need a little encouragement then you can always book yourself another trip!