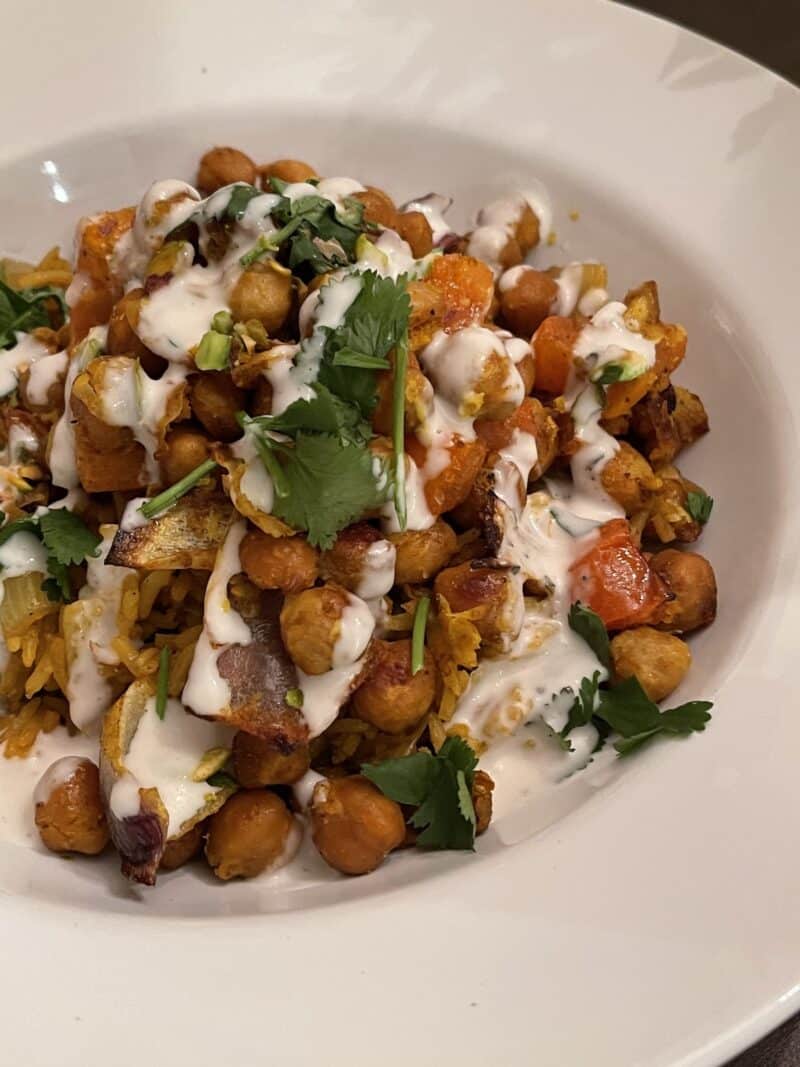 This dish is hearty and light at the same time. Perfect for lunch or dinner, I hope you enjoy my vegan chickpea bowl recipe!
1 /4 Red Onion, thinly sliced
1/4 cup Cilantro, coarsely chopped
½ ounce Pistachios, roughly chopped
½ cup Basmati Rice
3/4 vegetable broth
13.4 ounce Chickpeas
1 clove Garlic
1 Lemon, zested and quartered
4 ounces Grape Tomatoes
1 tablespoon Middle Eastern Spice Blend
1 teaspoon Hot Sauce
2 teaspoons Olive Oil
2 tablespoon Vegan Butter
Salt and Pepper, to taste
Vegan sour cream, for drizzling
Adjust rack to top position and preheat oven to 425 degrees.
Melt 1 tablespoon vegan butter in a small pot over medium-high heat. Add minced onion, half the garlic, half the pistachios (save the rest for serving), half the Spice mix (you'll use the rest in the next step), and a pinch of salt. Cook, stirring, 1 minute.
Stir in rice, broth and a big pinch of salt. Bring to a boil, then cover and reduce heat to low. Cook until rice is tender, 15-18 minutes. Keep covered off heat.
Meanwhile, toss onion wedges, tomatoes, and chickpeas on a baking sheet with a large drizzle of olive oil, remaining Spice mix, pepper, and a few pinches of salt. Roast on top rack, tossing halfway through, until veggies are tender and lightly charred and chickpeas are crispy, 18-20 minutes.
While veggies and chickpeas roast, in a small bowl, combine sour cream and remaining garlic to taste. Season with salt. Stir in water 1 tsp at a time until mixture reaches a drizzling consistency.
Fluff rice with a fork; stir in remaining butter and half the cilantro. Season with salt and pepper.  Once veggies and chickpeas are done, remove from oven and toss with lemon zest.
Divide rice between shallow bowls. Top with veggies and chickpeas. Drizzle with garlicky white sauce and hot sauce to taste. Sprinkle with remaining pistachios and cilantro. Top with lemon juice to taste; serve with remaining lemon wedges on the side.