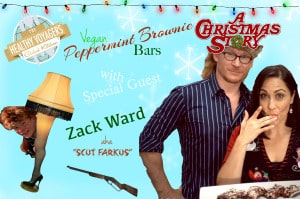 Learn how to make a fun Christmas and Holiday themed dessert, Vegan Peppermint Brownie Bars,
on The Healthy Voyager's Global Kitchen
hosted by Carolyn Scott-Hamilton and special guest star, Zack Ward,
aka Scut Farkus from the holiday classic, A Christmas Story!
Get into the holiday spirit with the star of one of the best holiday films of all time and
The Healthy Voyager while enjoying a delicious, vegan treat!
Watch the episode below!
Peppermint Brownie Bars
Brownies
2 cups granulated sugar
1 cup cocoa
1 cup all-purpose flour
1/2 teaspoon salt
3/4 cup melted vegan butter
3 egg replacers
1 1/2 teaspoon vanilla extract
1 1/2 tablespoon water
Icing
1/2 cups confectioners' sugar
1/2 cup (1 stick) plus 7 tablespoons vegan butter, divided
1 1/2 tablespoons vegan heavy cream (we use coconut cream)
1 teaspoon Pure Peppermint Extract
Chocolate Sauce and Topping
12 ounces semi-sweet baking chocolate, coarsely chopped
Crushed peppermint candies , (optional)
Preparation
Preheat oven to 350°F. Prepare brownie mix in a mixer or food processor by starting with dry ingredients first then adding the wet.
Spread batter in greased foil-lined 15x10x1-inch baking pan.
Bake 15 minutes or until toothpick inserted into center comes out almost clean. Cool in pan on wire rack.
Meanwhile, beat confectioners' sugar, 7 tablespoons of the butter, melted, cream and peppermint extract in large bowl with electric mixer on medium speed until well blended and smooth. Spread evenly over cooled brownie. Refrigerate 30 minutes.
Melt chocolate and remaining 1/2 cup (1 stick) butter in a double boiler until butter is melted. Stir until chocolate is completely melted. Spread over top of chilled brownie. Sprinkle with crushed peppermint candies, if desired. Cut into bars.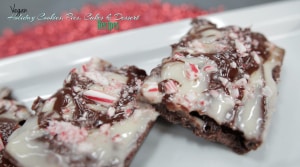 Also, for additional vegan holiday sweets & dessert recipes, try some of my favorites from years past below:
Cookies
Cakes & Cupcakes
Pies
Breads
Beverages