Yep, along with all of the eating of sweets there is the tradition of holiday drinking.  Be it hot cocoa for the kiddies on a chilly night or a festive cocktail at a holiday party, holiday drinks are like no others, any tie of the year! Please enjoy these drink recipes all holiday long with friends, family or even just to keep you warm this winter!
Eggless Nog
1 16-ounce package of silken tofu
1 cup soy vanilla soy milk
1/4 cup sweetener
1 teaspoon vanilla
1/4 teaspoon nutmeg
Pinch of cinnamon
Rum to taste (optional)
Blend all in a blender until smooth – Chill and serve.
Peppermint Hot Cocoa
Add your chocolate mix to a saucepan. Add a splash of your milk and mix until pasty. Then add the rest of the liquid, mix and heat on medium heat until it's well incorporated and heated to your liking.
Add candy cane to a mug and pour hot cocoa over it. If you're opting for the peppermint extract, add it drop by drop until you've reached your desired taste. Top with vegan whipped cream, candy cane crumbles and/or chocolate shavings.
Hot Buttered Cider (alcoholic but remove Rum and it's kid friendly)
7 cups Apple cider OR apple juice
1/3 cup Brown sugar, packed
4 stick cinnamon
1 teaspoon Whole allspice
1 teaspoon Whole cloves
1 Lemon peel, cut into strips
1 1/2 cups Rum
Vegan margarine
Thin apple slices
Combine apple cider or apple juice and brown sugar in a large saucepan. For spice bag, tie cinnamon, allspice, cloves, and lemon peel in a 7 inch square of 100 percent cotton cheesecloth. Add spice bag to cider mixture. Bring cider mixture to boiling. Reduce heat and simmer, covered, for 15 minutes. Remove and discard spice bag. Stir in rum. Pour cider mixture into mugs. Float about 1/2 tsp margarine on each. Top each serving with one or two thin apple slices. Makes about 10 (6-oz) servings.
Eat up and then get out and vote!!
Gingerbread Milkshake
4 scoops vegan vanilla ice cream
Soy milk (or non-dairy milk of choice)
2 oz. – 4 oz. gingerbread syrup (depending on taste)
4 small gingerbread cookies
Pulse your gingerbread cookies in a food processor or blender until broken up into little pieces. Set aside.
In a blender, add your ice cream with enough milk to barely cover the ice cream. For a thinner shake, add a little more milk. Blend until creamy. Blend in gingerbread syrup and then pour into milkshake glass.
Stir in the cookie pieces, top with vegan whipped cream and garnish with a few cookie pieces.
Pomegranate Cranberry Kiss
1 1/2 oz. Pomegranate Liqueur
3/4 oz. sour apple vodka
1/2 oz. cranberry juice
Mix ingredients in martini shaker. Shake well. Serve on the rocks. Garnish with sugar-dusted raspberries.
Santa & Rudolph's Sleigh Ride Cocktail
1 oz. Chambord
1 oz. vodka
1 oz. dark crème de cacao (or chocolate liqueur)
1.5 oz. soy creamer (plain or vanilla)
Shake ingredients with ice and strain into a cocktail glass.
Grown-Up Hot Chocolate Martini
2.5 oz. clear vodka
2 tbsp. vegan hot chocolate mix
2.5 oz. soy milk
Mix ingredients together, pour into a martini glass and garnish with dark chocolate shavings.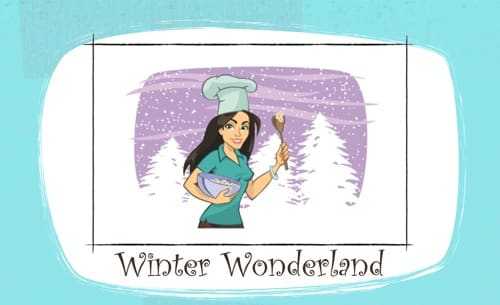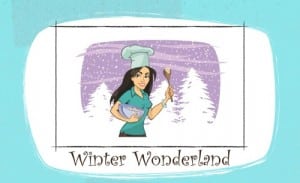 And don't forget to pick up your copy of
The Healthy Voyager's
Winter Wonderland Holiday E-Cookbook for only $3!
Click here to purchase!

Enjoy on Meatless Monday