Yay!! It's that time of year where everywhere we go there are treats galore and where gifting home made sweets is more than welcomed.  Baking with family and gifting to friends is a quintessential holiday tradition. So each week in December, I'll be offering up an assortment of holiday recipes and this week, it's cookies!!
As my gift to you, please enjoy this week's treats!
Classic Gingerbread Cookies
3 cups flour
1 teaspoon baking soda
1/2 teaspoon salt
2 teaspoons ground ginger
1 teaspoon ground cinnamon
1/2 teaspoon grated nutmeg
1/4 teaspoon ground cloves
3/4 cup dark brown sugar (packed)
3/4 cup unsalted soy butter, cut into small chunks
1/4 cup unsulfured molasses
1/4 cup rice syrup
Ener-G for 1 egg (or any egg replacer enough for 1 egg), prepared as per package directions
Sift flour, baking soda, salt and spices together. Place margarine and sugar in a large bowl. Mix well until smooth. Add molasses, rice syrup, and Ener-G. Mix well. Add flour mixture. Mix well. Take dough out of bowl and shape it into a large disk. Wrap in plastic wrap. Chill overnight.
Preheat oven to 350 degrees. Lightly grease a cookie sheet. Roll out dough to 1/8″ thickness. Cut cookies out. Place cookies on the cookie sheet. Bake for 12-14 minutes. Cool on sheet for several minutes than transfer to wire rack. When cooled, may be iced if desired.
*Note: If you can't wait until the next day, chill at least an hour or more. Can also be baked in a pan, in one piece.
Classic Sugar Cookies
4 cups sifted flour
1 cup soy butter
2 cups sugar
2 teaspoons baking powder
1/2 teaspoon salt
Ener-G Egg for 3 eggs (or any egg replacer enough for 3 eggs), beaten well
1 teaspoon vanilla
Mix & sift flour, baking powder and salt; set aside.
In separate large mixing bowl, cream margarine. Add sugar and cream well. Add Ener-G Egg and blend well. Add vanilla and stir in flour mixture. Beat well. Cover with waxed paper and refrigerate for 1/2 hour or overnight.
Preheat oven to 400 degrees. Roll on floured board to 1/4 inch thick. Cut out cookies and add any optional decorations. Bake on ungreased cookie sheet for 10 minutes or until browned lightly. Makes approximately 3 dozen.
Mexican Wedding Cakes
1 cup soy margarine
1/2 cup powered sugar
1 teaspoon vanilla
2 cups flour
1/2 cup pecans, finely chopped
Powdered sugar
Preheat oven to 325 degrees.
Cream margarine, the 1/2 cup powdered sugar and vanilla in medium bowl. Combine flour and pecans in a separate bowl. Stir into mixture in medium bowl. Shape dough into 1 inch balls and place on ungreased baking sheet.
Bake in 325 degree oven for 20 to 25 minutes until lightly browned.
Roll warm cookies in powdered sugar; cool on wire rack. Roll again in powdered sugar.
Candy Cane Shaped Cookies
2 1/2 cup flour
1/4 teaspoon salt
1 cup margarine
1 cup powered sugar
Substitute equivalent of 1 egg
1/2 teaspoon vanilla extract
1/2 teaspoon peppermint extract
1/4 teaspoon liquid red food coloring
Pre-heat oven to 350° F.
Mix flour and salt together, set aside.
In a large bowl, with an electric mixer, beat margarine until creamy, gradually beat in powered sugar and continue beating until light and fluffy. Beat in egg replacer, vanilla, and peppermint extracts then lower mixer speed and gradually mix in the flour mixture, beating just until blended. Remove slightly more than half of the dough from the bowl and set aside. Add the red food coloring to the remaining dough and beat until evenly mixed and colored.
For each candy cane, scoop out 1 teaspoonful of the plain dough and 1 teaspoonful of pink dough. Roll each dough portion between your hands to make a 4 inch rope. Twist the ropes around each other like a Barber Pole and shape into a cane shape. Arrange cookies on a greased baking sheet, about 1 inch apart. Bake for about 8 minutes until firm to the touch.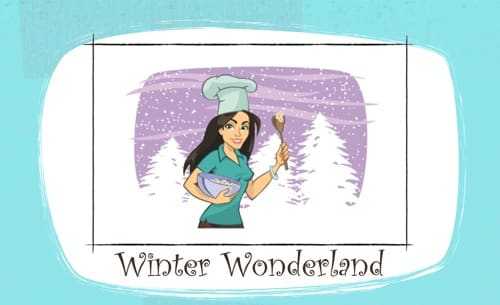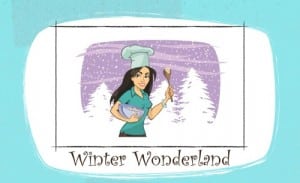 And don't forget to pick up your copy of
The Healthy Voyager's
Winter Wonderland Holiday E-Cookbook for only $3!
Click here to purchase!
Enjoy on Meatless Monday