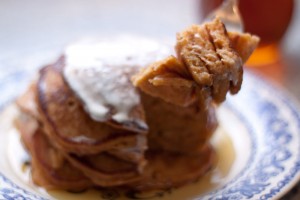 Want to impress at your next brunch? Want to show your spouse how much you appreciate them? Want to play gourmet chef for the day without all of the schooling or lots of slaving over the stove? Then these Sweet Potato Pancakes will do the trick. Breakfast for brunch, breakfast for dinner, these will pretty much be your new fave!
Sweet Potato Pancakes
1 1/2 cups sifted all-purpose flour (gluten free if needed)
3 1/2 teaspoons baking powder
1 teaspoon salt
1/2 teaspoon ground nutmeg
1 1/4 cups mashed cooked sweet potatoes
2 egg replacers, beaten
1 1/2 cups soy milk
1/4 cup vegan butter, melted
Sift dry ingredients into a mixing bowl. Combine remaining ingredients; add to flour mixture, stirring just until dry ingredients are moistened. Drop by tablespoons onto hot greased griddle or skillet and fry, turning once, until browned on both sides. Serve warm with maple sage butter sauce drizzled over top.
Cinnamon Maple Sage Butter
1/2 cup vegan butter
Heaping handful of fresh sage leaves, finely chopped
1 teaspoon ground cinnamon
2 tablespoons maple syrup
Melt the butter in a large saute pan over medium heat. When the butter has melted add the sage leaves. Continue to cook, swirling the butter occasionally, until it begins to lightly brown. Remove the pan from the heat. Stir in the cinnamon and maple syrup and gently stir the mixture.