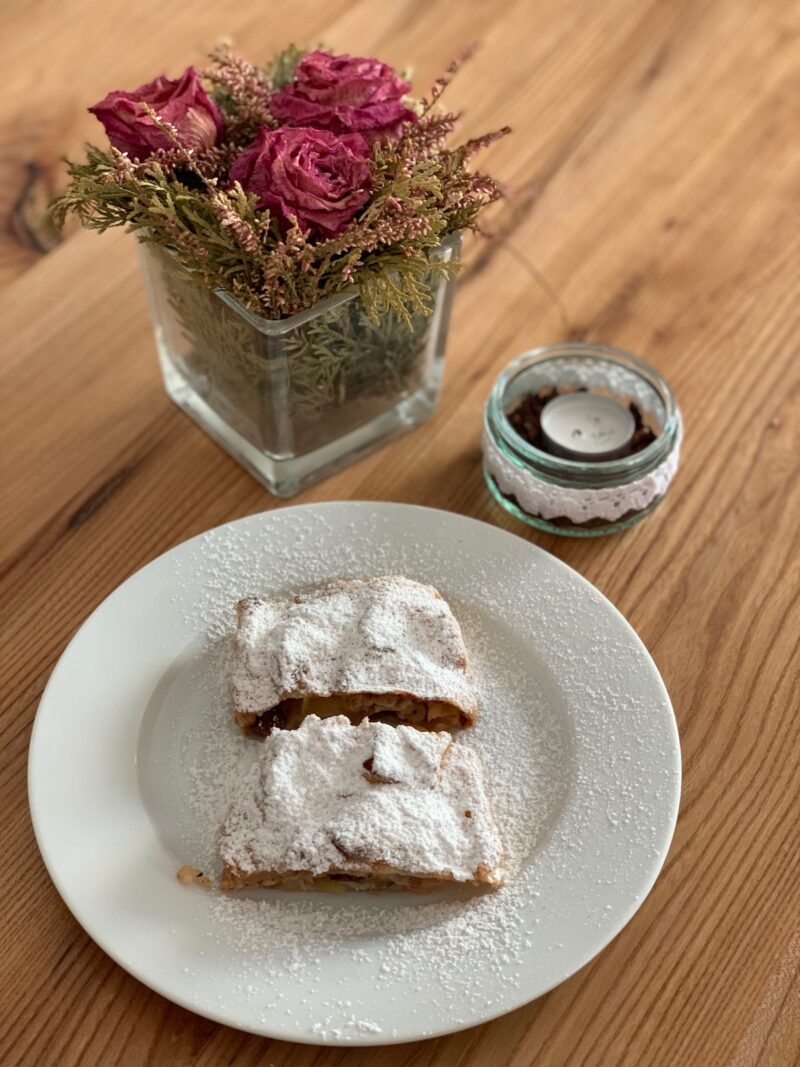 In honor of my time in Vienna, I'm bringing you my homemade vegan apple strudel recipe to enjoy! Hopefully as much as I enjoy it and straight out of The Healthy Voyager's Global Kitchen Cookbook!
Pastry Dough (you may also use vegan phyllo or puff pastry dough – instructions below)

1 1/2 cups flour

Pinch of salt

1/4 to 1/3 cup water, lukewarm

1 egg replacer, mixed

1 tablespoon oil

Apple Filling

2 pounds baking apples, peeled and thinly sliced (Granny Smith are best)

1/2 cup walnuts or almonds, coarsely chopped

1/4 cup raisins, soaked in warm water and drained

1/2 cup sugar

3 tablespoons rum or orange juice

1 tablespoon cinnamon

1 teaspoon vanilla extract

1/2 to 1 cup vegan butter, melted

1/2 cup dry breadcrumbs

1/4 cup confectioners sugar
To make the dough: In a large bowl, mix together the flour and salt. Make a well in the center of the flour and pour in 1/4 cup of the water, the egg replacer and the oil. Stir the wet ingredients into the flour with a spoon, adding more water as needed to form a soft, pliable dough. Remove the dough and place on a lightly floured, flat and dry work surface and knead until it is smooth and elastic. Cover with plastic wrap and set aside to rest for at least an hour.
To assemble the strudel: Preheat your oven to 400ºF. Cover a work surface approximately 4 feet by 4 feet with a clean piece of cloth and make sure it's securely fastened to the table. The cloth is used to facilitate stretching and rolling the dough so you don't want it sliding around. Then dust the cloth lightly with the flour. Place the rested dough in the center of the cloth.
Using a rolling pin, roll the dough into a large, thin rectangle. When the dough is as thin as it will go from rolling, it's time to begin stretching and pulling the dough. This is done by placing your lightly floured hands under the dough, and gently pulling and stretching the dough. You will want to work your way around the dough so be sure your work area is open (like a table you can walk around instead of a counter) Do this until it is a good sized rectangle. Be very careful when you are pulling and stretching not to tear the dough but if you do, just pinch it back together and smooth it out. Try not to make it super thin or it will tear when you fill and roll it. Once you've gotten it to the right size, trim off any thick edges or thin them out, being sure to keep the dough in its rectangular shape. Then let the dough sit for a few minutes.
In a large bowl, mix together the apples, walnuts, raisins, sugar, rum or oj, cinnamon and vanilla. Brush the stretched dough with melted butter, leaving an unbuttered border of about 2 1/2-inches on each side. Sprinkle the buttered section of the dough with the breadcrumbs. Then spread the apple mixture evenly over the breadcrumbs.
Use the cloth to help you gently lift one of the long sides of the dough and roll it over the apple filling, brushing the exposed parts with melted butter. Repeat with the other long side, making them overlap and forming a big cigar shaped roll. Don't forget to brush all exposed parts with butter. Gently lift the strudel (use the cloth help you move and roll it) and place seam side down, onto a large baking pan that is either lightly greased or lined with baking/parchment paper. You may have to bend the strudel into a crescent shape in order to fit it on the baking pan. Set in the oven and bake for 40 to 60 minutes, or until cooked through and golden brown on top. Brush the top of the strudel with some more melted butter once or twice during baking and be careful not to burn. Remove from the oven and sprinkle with powdered sugar. Slice and serve warm.
Yields 12 to 14
**Cook's Note
You may also make savory strudel.  Instead of the apple filling, try filling your strudel with vegan cheese, spinach and mushrooms along with delicious herbs and spices!
If using Phyllo dough, thaw and lay out 5 sheets, brushing each sheet generously with melted butter and laying them on top of one another.  Fill the pile sheets in the center as mentioned above, leaving a 2 inch border. Fold the short sides over the filling, then the long sides. These will be a lot smaller than the homemade dough strudels.