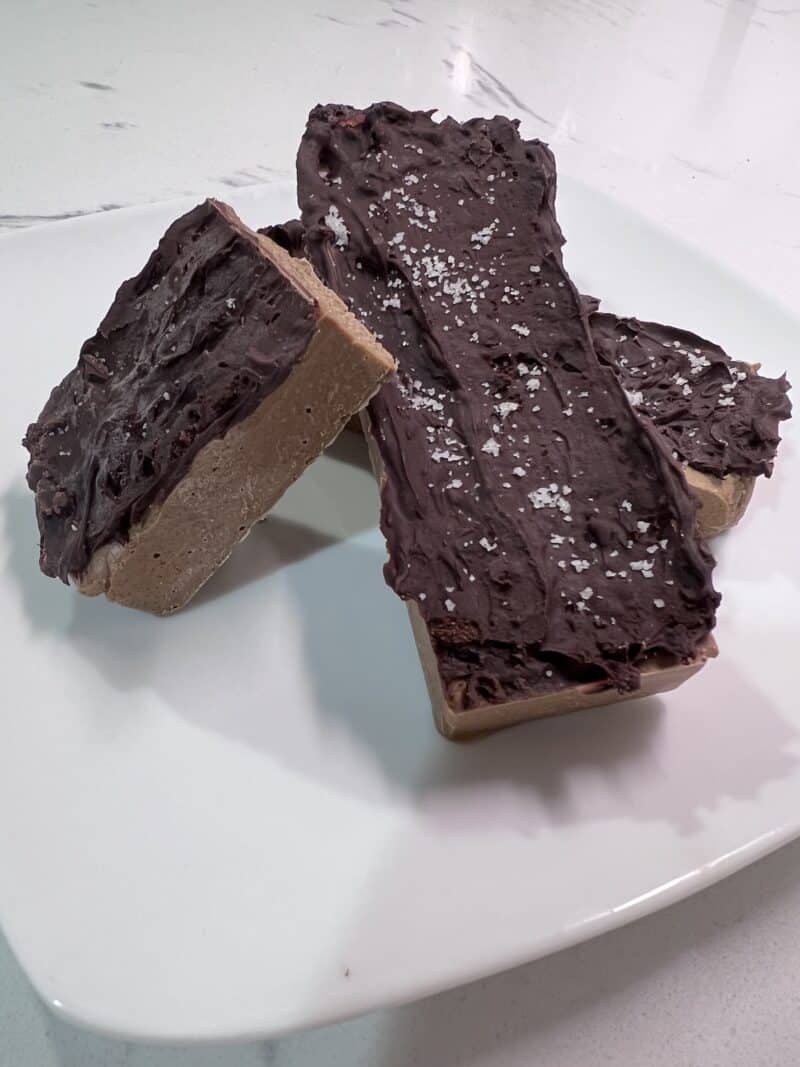 We all love stumbling upon a sinful treat that happens to be guilt free. But what about when you stumble upon one that is good for you? You're gonna love my super easy, no bake or cook vegan Salted Dark Chocolate Protein Toffee Bars recipe! So rich and delicious, you won't believe they're keto, paleo, vegan, sugar free, soy free and gluten free!
2

 

cup

 

nut butter of choice ( I used pistachio butter and wow was it good! You can use sunflower butter to make it nut free)

12

tbsp

vegan

protein powder

of choice (I use chocolate flavor)

1

 

tsp

 

salt

6 tbsp

granulated monk fruit (My preferred brand is Lakanto)

3/4 cup sugar free chocolate chips (I love these by lakanto)

Coarse sea salt, for sprinkling
To make the recipe, stir everything except chocolate together to form a dough. The dough is VERY sticky so I would suggest you use gloves because that way you don't waste dough, it's easier to deal with and doesn't get under your nails.
Shape into bars with your hands or use a bar mold. This recipe yields 8 large bars or 16 minis (these are so rich and tasty that I think minis are the perfect snack or treat size).
Place bars into freezer to set for at least an hour.
Meanwhile, add chocolate chips to a double boiler and melt thoroughly. Remove bars from freezer and top, drip or spread melted chocolate on top of each bar. If you want a drippier chocolate, add a teaspoon of coconut oil to the chips and mix. I like the crunchy candy bar texture so I ship the coconut oil but you do you ; ) Sprinkle sea salt on top of the chocolate then place in freezer to set for an hour or so. Store in airtight container with each bar separated by wax paper. Enjoy guilt free!
PS – if you don't have bar molds, you can hand shape the dough on wax paper and place on a cookie sheet. Once set you can slice the bars how you like. Here is what they look like if you make them like this: