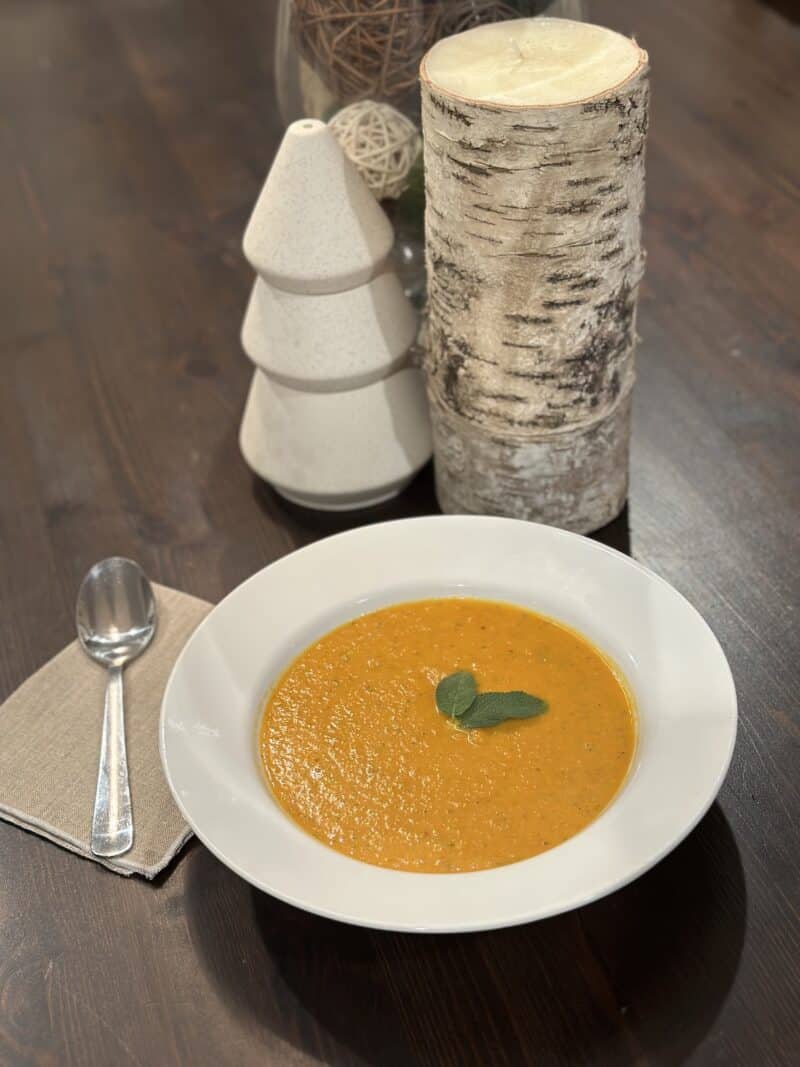 Winter is synonymous with soup. Warm and cozy, comforting bowls of savory goodness. What I love about my vegan truffle sage carrot bisque recipe is that it has all of the flavor and none of the guilt! Packed with veggie goodness, you'll come back to the recipe all winter long!
6

 

cups

carrots

1

 

yellow onion

4

 

cloves

 

garlic

20 fresh sage leaves, coarsely chopped

Olive oil

6

 

cups

 

vegetable stock or vegan chicken bouillon

1

 

cup

 

full fat coconut milk

1

 

tbsp

 

fresh ginger

1/2

 

tsp

 

red pepper flakes

1

 

tsp

 

white truffle oil

Salt and pepper, to taste (I like using white pepper in place fo black pepper in this recipe)
Preheat your oven to 425°F.
In the meantime, chop carrots into 1 inch cubes and the onion into slivers, adding them into a big bowl as you go. Peel the garlic and add it to the mixture whole. Once you're finished chopping, divide the mixture onto 2 large baking sheets. Add sage leaves to each baking sheet.
Season liberally with olive oil, salt and pepper. Stir the vegetables around in the pan to ensure each piece is well coated with oil and seasonings. Roast at 425 °F for 50 minutes, turning and rotating at the 25 minute mark.
Remove the baking sheets from the oven and allow to cool for about 10 minutes.
Add the contents of the baking sheets to a medium to large pot or dutch oven. Add vegetable broth, coconut milk, fresh ginger, truffle oil and red pepper flakes. Add in the roasted carrot and onions (yes all the garlic and sage goes in too.)
With a hand blender, blend everything until smooth. Taste and adjust seasonings as necessary, serve warm and enjoy!