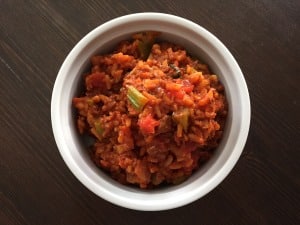 Rice is globally an essential diet. In fact, it is the staple food of half the world population. Considered a very useful cereal grain that feeds more people than any other worldwide, it has the ability to adapt to different climates.
Furthermore, regarding human nutrition, rice is a very important food crop capable of providing more than one-fifth of the frequently consumed calories. There are many varieties of rice and cooking predilections that vary in each region.
And above all, you can prepare rice and beans providing basic nutrients for health. In Tasty and Simple Red Beans and Rice | Minute® Rice you will find a lot of yummy recipes to enjoy this perfect combination!
Different types of rice
Varieties of rice differ in size, thickness, gumminess, color, and taste. Although it is mostly classified based on its shape or processing method:
Long-grain:

when cooked, grains are separate and fluffy, which makes it ideal for soups, salads, and other uses.

Medium-grain

rice is about half the length of long-grain and very spongy. When cooked, grains are moist, stickier and tend to cling together.

Short-grain

rice is almost round in shape and cooked grains tend to be sticky. Mostly consumed in Asian and Caribbean dishes.

Whole or refined

: grains contain the entire grain kernel, the bran, germ, and endosperm. While refined grains are produced by milling, a process that removes the bran and germ.
Certainly, when cooking you may choose specific varieties of aromatic rice for their unique features. Here are the most widely used:
Arborio

. A medium-grain rice popular for making risotto and puddings.

Basmati and Jasmine

. These are long-grain varieties with fragrant aromas that can be found in both brown and white types.

Black rice, Purple, or Red

. These are short- or medium-grain types, colorful rice.

Glutinous

. This short-grain rice is especially sticky when cooked because of the starch it contains.
Rice & red beans: a great mixture
Rice and red beans is one of the healthiest and tastiest dishes you can eat. Next, two recipes for you to develop your cooking inspiration:
Recipe N° 1
Ingredients
2 tablespoons of vegetable oil.

1 chopped medium onion.

1 seeded and chopped green pepper.

3 stalks of chopped celery.

3 minced cloves of garlic.

1/2 teaspoon of dried oregano.

1 1/2 teaspoons of Cajun seasoning.

2 cans (15.5 oz) of drained red beans.

1 can (14.5 oz) of diced tomatoes (optional).

1 cup of uncooked long grain white rice.
Instructions
Heat oil over medium heat in the oven or in a heavy stock pot. Add onion, pepper and celery. Cook for 5 minutes until the onion softens. Reduce heat to medium low. Add garlic, oregano and Cajun seasoning; cook for 1 minute.

Add red beans, tomatoes (if desired) and rice. Stir to combine and bring to low boil. Reduce heat, cover and cook for 15-20 minutes or until rice is ready.
Recipe N° 2
Ingredients
2 cups of water.

1 cup of uncooked rice.

1 chopped onion.

1 chopped green bell pepper

1 chopped clove garlic

2 (15 ounce) cans of drained kidney beans.

1 (16 ounce) can of whole chopped peeled tomatoes.

½ teaspoon of dried oregano.

Salt to taste.

½ teaspoon of pepper.
Preparation
In a saucepan, bring water to a boil. Add rice and stir. Reduce heat, cover and simmer for 20 minutes. Stir in onion, green pepper and garlic; saute until tender.
Pour in beans and tomatoes with juice. Season with oregano, salt and pepper. Cook uncovered for 20 minutes. Serve over rice.
In short, the versatility of rice is limitless. That is why it can be easily combined. All depends on you, dare to taste!