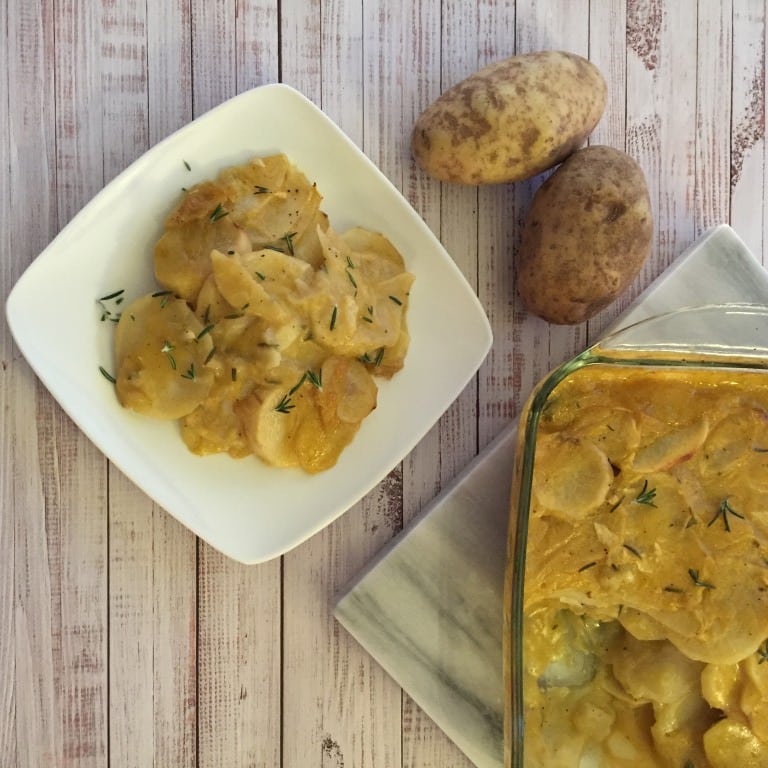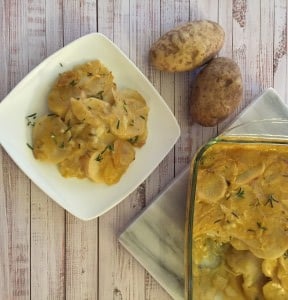 As a kid, I loved creamy potatoes at meal time. As an adult, it's frowned upon as they are a calorie bomb! But, I've created a totally decadent vegan scalloped potatoes recipe that everyone can enjoy, guilt free! They are gluten free  and soy free as well so that all sorts of special diets can dig into this yummy comfort food dish!
6 medium/large Idaho Potatoes, sliced into thin rounds

1 yellow onion, finely diced

3 tablespoons fresh rosemary

1/3 cup

 

vegan butter or non dairy margarine

1 teaspoon crushed garlic

1/3 cup all purpose flour (gluten free, if desired)

3 cups vegetable broth

2 tablespoons nutritional yeast (optional, adds "cheesy" flavor)

salt and pepper, to taste
In 2 shallow, well greased 2 quart casserole dish, layer potatoes in single layers, sprinkling with salt, pepper, diced onions and rosemary between each layer.
In a medium saucepan melt vegan butter over medium heat, add in garlic and saute. Stir in flour until well blended. Whisk in vegetable stock; add in nutritional yeast and cook stirring constantly until it boils and thickens. Season with salt and pepper, to taste.
Pour sauce over potatoes in casserole.
Bake covered at 350 degrees for about 45 minutes, uncover and then bake an additional 35 minutes until tender and golden brown.