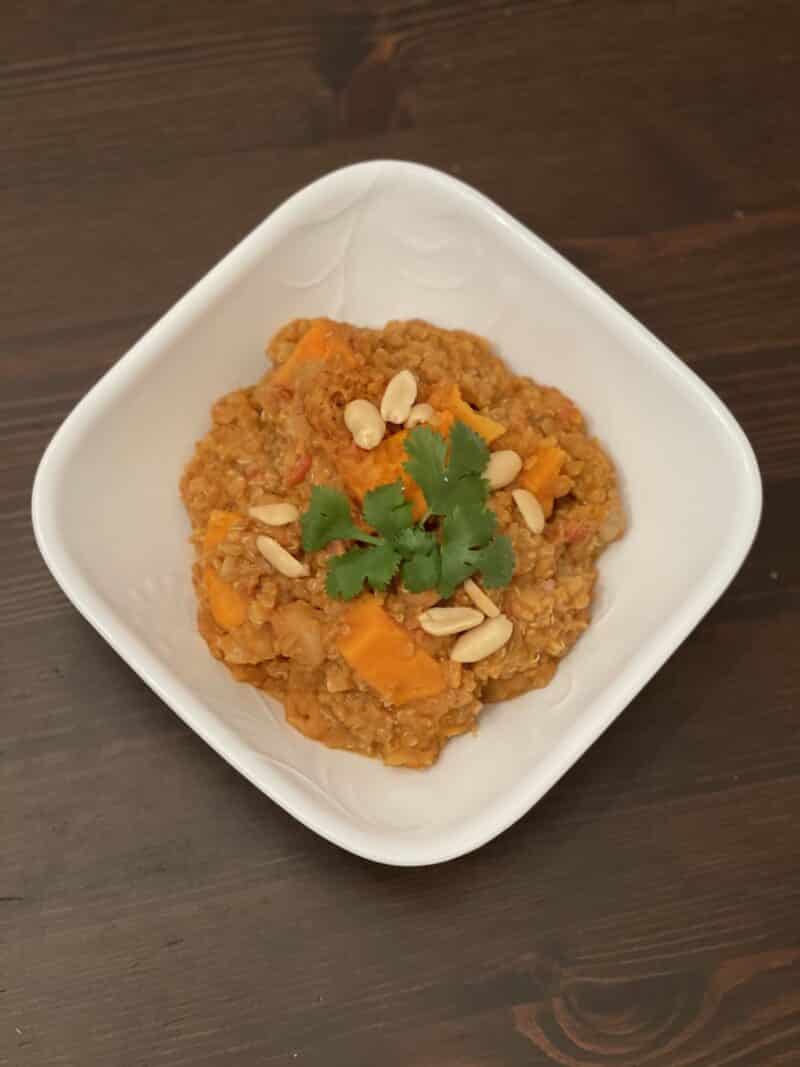 No matter what time of year, I love making stews and soups in my crockpot because it makes weeknight meals so much more convenient. And this is one of my all time faves as ti's bursting with flavor, packed with veggies and protein and mmm mmm good…for you! I hope you enjoy my easy and quick vegan Sweet Potato Peanut Coconut Curry Stew recipe!
4 cloves garlic minced
2 small yellow onions, diced
2 medium-sized sweet potatoes, cubed
1 cup uncooked quinoa
1 can coconut milk (lite is fine as well)
1 tbsp curry powder
1 tsp cumin
1 tsp chili powder
1 tsp salt
1 tsp white pepper
4 tablespoons coconut aminos
2 tablespoon sugar (I use granulated monk fruit sweetener to keep it sugar free)
2 cups vegetable broth
1/2 cup peanut butter
1 15 ounce can crushed tomatoes
1 can chickpeas or bean of choice, drained and rinsed
2 cups spinach, chopped
1/2 cup chopped cilantro (for garnish)
1/4 cup chopped peanuts (for garnish)
Add all ingredients to slow cooker except for spinach, cilantro and peanuts. Cook on high for 4 hours, or low for 8 hours.
When ready to serve, stir in spinach. Top each bowl with peanuts and cilantro and enjoy!