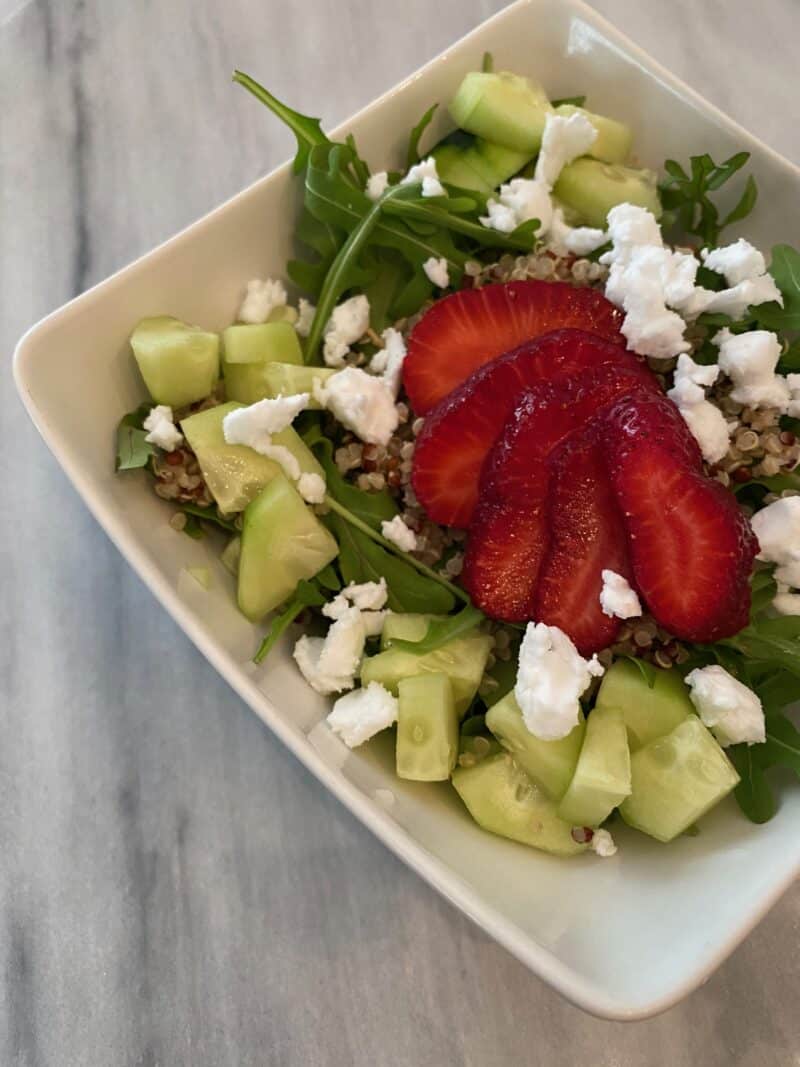 The summer is still here and the hot days are not yet over. We still have a lot of fresh vegetables and fruits in markets in stores to munch on. Summer vibes go hand-in-hand with fresh and amazing salads as well as they go with cold smoothies.
Having a salad for a meal is a great way to have your daily dose of vitamins. With an addition of some protein, salads become a complete meal. You can make a salad when it is too hot to eat anything else, or when you want to have an easy on-the-go meal.
Here are a few fresh recipes for easy summer salads for your next meal. They are all vegan-friendly!
Pasta salad
Pasta is a great addition to a salad. Nutritionist Adam Kemp considers healthy carbs to be our allies, not enemies, so do not be afraid of them. Pasta will give you some extra energy and make the salad more filling.
Take one serving of pasta per person and cook it in salted water until al dente. While your pasta is cooking you can prepare the rest of the ingredients. It is best to have something green and crispy for a base, like iceberg lettuce for example.
Add some nicely fried tofu, corn, red onions, and olives for a Mediterranean vibe. Now all you have to do is drain your pasta, let it cool down and mix it with the toppings. Use a shorter pasta like elbow or bow pasta. 
As for the dressing, you can go simple. Drizzle some lemon juice and olive oil and season with salt and pepper. Or you can use vegan mayo and a bit of mustard, both dressings work great with this salad.
Calabrese salad
This one is going to make you feel like you are on your dream vacation in Italy. It is a quite simple yet flavorful salad that you can make with just a few ingredients. All you need is a bigger tomato, the sweeter, the better, a nice piece of vegan mozzarella cheese, and some fresh rocket.
Cut your tomato and your mozzarella in the same, or at least similar-sized circles. This will make it look more put together. Put this on a plate like this: one circle of tomato and mozzarella. 
Repeat that in a circular motion until you use all the ingredients. Top off with rocket, olive oil, salt, and pepper. Serve with crispy garlic bread and chilled drinks of your choice. Enjoy.
A grilled corn salad
Nothing says summer like the smell of grilled corn. Backyard grill, a bunch of dear people, and cold drinks. Serve this salad as a side dish and show your guests your inner masterchef. For greens, you can use any salad mix you like. A mix with baby spinach, for example, is a great option.
Grill your corn to be nice and roasted on the outside. Season the corn according to taste, we suggest a bit of salt, pepper, and red paprika.
Now comes the fun part, you need pickled beetroot. If you can not get it pre-pickled, it is very easy to make at home, just find a recipe online. Cut it into small pieces and leave it aside. It is time to start assembling your salad. 
Take your green mix and put it in the bowl. Add the corn and the beetroot. Top off with chopped almonds and vegan cheese. Season to taste. A bit of vinegar or some lemon juice is all you need to finish. Bon appetit.
Falafel style salad
This one is fresh, simple, and nutritious. Add some toasted chickpeas to a bowl of greens of your choice. Add some shredded carrots, red onions, chopped cucumbers, and avocado. 
Chickpeas are a great source of protein, especially for people who do not eat meat. Lentils are also a great option!
Finish with a hummus dressing and some plant-based feta cheese. Add salt and pepper to taste.
Macaroni salad
We have another recipe that includes pasta. It is refreshing and filling, and you can always adapt the ingredients according to your food preferences.
The base is of course some boiled macaroni. Leave aside to cool down when they are done. Now for the veggies, some red or green peppers will add a dose of crunchiness to the mix. Chop them finely into small squares. Do the same with red onions and carrots.
As for protein, you can use any vegan meat you want.
This salad should be drenched in sauce, and you can use something premade on a vegan yogurt base, or make your own. 
If you decide to make your own dressing, take a cup or two of chilled yogurt. Add a tablespoon of vegan mayo, some mustard, powdered garlic, salt, and pepper, and mix. Adapt the amount of dressing according to the number of dry ingredients.