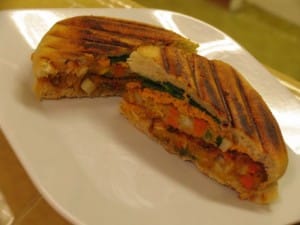 Sometimes life can get you down and for many, food can be our biggest comfort. Well not only is this burger mega comfort food, it can also help boost your mood!  Not only will the taste put a smile on your face, the ingredients in this scrumptious sandwich actually helps boost serotonin levels. So whether you're trying to beat the blues or not, serving up this dish guarantees happiness!
1 small sweet potato, baked
1/4 cup dry quinoa
1/4 cup dry oats
15-ounce can garbanzo beans, rinsed and drained
2 tablespoons parsley
1 teaspoon cayenne pepper
1 teaspoon cumin
1/2 teaspoon salt
1/2 teaspoon pepper
2 tablespoons whole wheat flour
 (Your choice of gluten free flour if you are gluten free)
2 tablespoons olive oil
Peel, dice, and steam the sweet potato until soft. Cook the quinoa and oats in separate pots.
In a food processor, combine garbanzo beans, sweet potato, parsley, cayenne pepper, cumin, salt and pepper, flour, and one tablespoon oil.
In a separate bowl, mix the bean mixture with the quinoa and oats. Using hands, form into six patties.
Heat the remaining tablespoon of oil in a pan on medium heat. Brown both sides of each burger.
Serve on a toasted whole grain bun or focaccia and top with chopped salad greens, dressed with a drizzle of olive oil, lemon, salt & pepper. If you want to nix the bun, serve the patty on a bed of dressed dark leafy greens.
Enjoy on