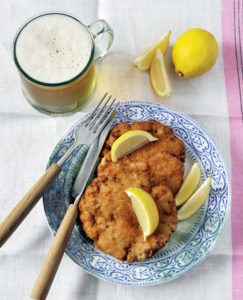 The original breaded "meat" of the world! This dish is a German classic, one that even veganized, rules! So tasty, carnivores might go meatless for this schnitzel. In honor of Oktoberfest, I share this recipe from The Healthy Voyager's Global Kitchen Cookbook! Enjoy this vegan wiener schnitzel recipe!
4

seitan

cutlets, 1/4-inch thickness

1/4 cup flour

Salt and pepper, to taste

1/2 cup bread crumbs

Vegan egg wash

(recipe below – double it)

Coconut oil, for frying (you may even want to use vegan shortening to mimic the traditional use of lard or preferred high heat oil)
Pound your seitan cutlets (if they aren't already 1/4-inch thin) between 2 sheets of plastic wrap. Use a heavy, flat-surface pan to pound if you don't have a "meat" mallet. Heat at least 1/4-inch of oil in a large skillet or pan to 350ºF.

Working one at a time, dredge cutlets first in flour that has been seasoned with salt and pepper, until the surface is completely dry. Dip in egg wash to coat, allow the excess to drip off for a few seconds and then roll quickly in the breadcrumbs until well coated. Place cutlets immediately in the pan with the hot oil. Cook cutlets in small batches and do your best to not crowd the pan. Fry the schnitzel for 3 to 4 minutes on one side. Move them around a little with your fork to make sure they don't stick. Turn them over once and fry until both sides are golden brown. Remove from pan, allow the oil to drain on a paper towel lined plate. Serve on a plate with lemon slices and perhaps some potato salad and sauerkraut!
*Vegan "egg wash" recipe – 1 tablespoon ground flaxseed with 3 tablespoons non-dairy milk. After mixing, add this to 1/4 tablespoon more milk to make the wash, mixing until well incorporated. Allow to sit out for a few minutes to congeal.