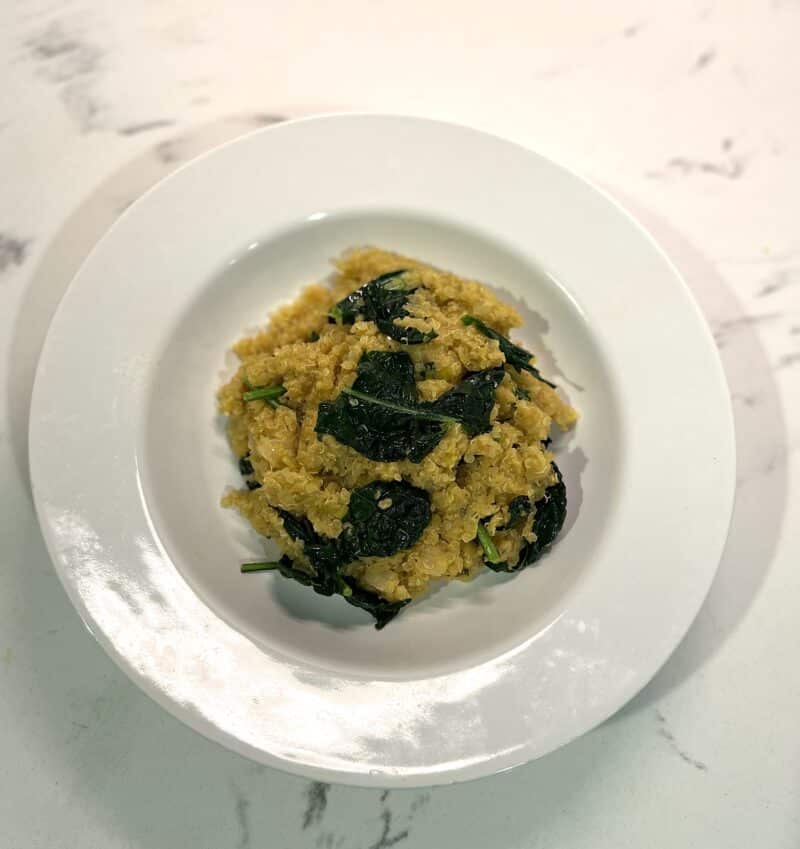 I love risotto but I tend to eat as grain free as I can which is why I love to make risotto out of quinoa. Packed with protein, quinoa risotto is bursting with flavor and just as creamy that you won't even miss the rice. Easy to make and a delight to eat, enjoy my Vegan Kale and Leek Truffle Quinoa Risotto Recipe soon!
2

 

tablespoon

 

Vegan Butter

1 teaspoon Truffle oil

4

 

Medium

 

Leeks,  cut into ¼ inch slices

 

(about 5 cups of sliced leeks)

3

 

Medium

 

Cloves Garlic, minced

2

 

Cups

Uncooked Quinoa (don't rinse)

½ 

Cup

 

Dry White Wine

½

 

teaspoon

 

fresh Thyme Leaves

5 

Cups

 

Vegetable Stock or vegan chicken bouillon stock 

2

 

tablespoon

 

Nutritional Yeast

1 tablespoon vegan butter
1 teaspoon truffle oil
1/2 to 1 cup vegan shredded mozzarella

3

 

Cups

 

Roughly chopped Kale

Salt and Pepper to Taste
In a large
dutch oven
over medium heat, melt butter and add leeks. Sauté until the leeks are translucent at soft. 7-9 minutes.
Add garlic and sauté for 1 minute.
Add quinoa and toast for 1 minute.
Add wine and thyme. Stir well allowing the alcohol to evaporate. Reduce heat to low.
Add vegetable stock in ¾ cup increments, stirring constantly between each addition and allowing some of the liquid to absorb before adding the next addition of liquid, about a minute in between each pour. Repeat stirring and adding liquid until all of the liquid has been added. Cover and allow to cook on low heat for about 15 minutes. Most of the liquid should be absorbed by then, some may still be at the bottom but that's ok, turn off the heat and keep the lid on and allow the quinoa to steam for 5-7 more minutes.
Remove lid and stir in nutritional yeast, butter, truffle oil, cheese and kale leaves allowing residual heat from the pot to wilt the kale and melt the cheese and butter. Stir well to incorporate all ingredients, season as needed with salt and pepper. Serve immediately and enjoy! This would be killer with mushrooms too so feel free to play with add-ins!