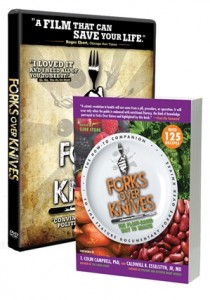 My most favorite documentary is now available on DVD!
And you can purchase it as a combo with the accompanying cookbook!
If you haven't heard me rave about Forks Over Knives,
be sure to read my write up here.
It's revolutionary in the way of helping save lives via the fantastic information
on how a plant based diet can prevent, halt and even reverse
a large number of diseases that face our society today.
And it's so much more powerful with it's new cookbook!
Check out some of the awesome healthy, plant based recipes:
Sweet Potato Chips
Spicy Garbanzo Spread
Pea Guacamole
Yamadillas
Cream of Broccoli Deluxe
Smoky Black Bean Soup
Mango Lime Bean Salad
Mediterranean  Quinoa Salad
Sweet Potato Vegetable Lasagna
Polenta Pizza
Quick Barbecued Tempeh
Pesto Stuffed Mushrooms
Baked Stuffed Apples
Strawberry Pie
And more!
Change your life for the better today and you'll achieve optimum health in a snap!
Get the DVD and Forks Over Knives combo pack and share it with everyone you love!