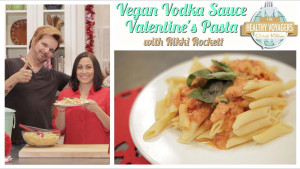 Learn how to make a fun Valentine's Day themed entree, Vegan Vodka SaucePenne Pasta,
on The Healthy Voyager's Global Kitchen hosted by Carolyn Scott-Hamilton and special guest star, Rikki Rockett,
aka the rad drummer from the band Poison!
Get your Valentine to "Talk Dirty To You" with this fun and simple recipe from the
drummer of some of the best rock ballads of the 80's and 90's and The Healthy Voyager!
Watch the episode below!
Valentine's Vegan Vodka Sauce Pasta Recipe
Kosher salt

12 ounces penne pasta

1 28-ounce can whole plum tomatoes, pulsed in a blender to keep it chunky

1 tablespoon vegan butter

1-2 shallots, minced

2 clove garlic, minced

1/4 teaspoon red pepper flakes

1/2 cup vodka

2/3 cup vegan heavy cream (1 block of silken tofu (12-ounces) and 1/2 cup of plain soy milk. Blend in blender until thick and creamy and there are no more lumps)

1/2 cup nutritional yeast or grated pumpkin seeds, plus more for topping

Handful of fresh basil leaves, torn, plus more for topping
Bring a large pot of salted water to a boil. Add the penne and cook as the label directs. Reserve 1/2 cup cooking water, then drain the pasta.
Meanwhile, melt the butter in a large skillet over medium heat. Add the shallots and cook, stirring occasionally, until slightly softened, about 3 minutes. Add the garlic and red pepper flakes and cook, stirring, 30 seconds. Remove from the heat and stir in the vodka, tomatoes and salt to taste. Return the skillet to medium heat and simmer, stirring often, until the alcohol cooks off, about 7 minutes. Stir in the heavy cream and cook until the sauce thickens slightly, about 3 minutes. Stir in the nutritional yeast and basil.
Add the pasta to the sauce and toss to combine, adding some of the reserved cooking water to loosen, if needed. Season with salt. Serve topped with basil and even some sprinkled vegan shredded cheese!