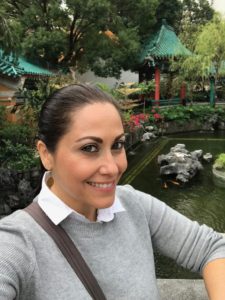 I'm back with some more tasty treats in Hong Kong! If you missed my top things to do and see in Hong Kong, be sure to check that out as well as my first post in where to stay and eat in the skyscraper lined metropolis of Hong Kong! Still hungry? No worries, I've got more tips on awesome vegan restaurants in Hong Kong!
When I'm in any city for a good chunk of time, I like to move around and experience different neighborhoods. That's why I was stoked to check out the Kowloon side of the harbour and have a few nights at the Langham Hotel and Spa.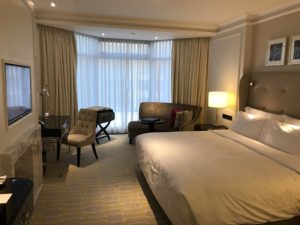 The Langham is a gorgeous hotel with all the amenities you could want in a hotel and more. Incredible dining with 8 different restaurants, including a Michelin star awarded to T'ang Court, a world class spa, impeccable service and wonderfully luxurious accomodations, the Langham is a great choice when in Hong Kong.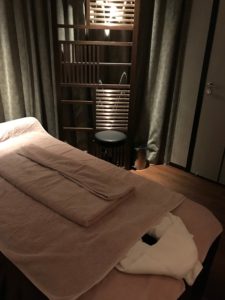 I was fortunate enough to enjoy a 5 elements massage at the Chuan spa at the Langham, followed by a 5 star meal at the T'ang Court Restaurant. The rooftop is dedicated to Chuan Body + Soul, a 604 square metre wellness sanctuary featuring stylish treatment rooms with saunas and showers, a palatial outdoor swimming pool and a split-level fitness on demand health club. Restore divine balance of the mind, body and soul with holistic treatments, luxuriate in the pool lounge and experience innovative classes for an unrivalled stay.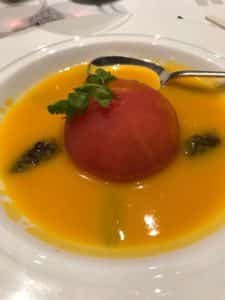 My meal was divine but then again so was every meal at the Langham. I indulged every morning at the Food Gallery what with their terrific food stations for every taste morning to night!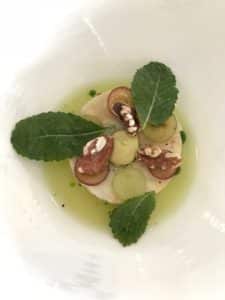 I mentioned in my first post that 2 restaurants in Hong Kong captured my heart. One was Grassroots Pantry and Cafe Gray is the other. Perched at the top of the uber chic Upper House hotel, Cafe Gray is not just a restaurant lounge with pretty views. It is a world class venue through and through. Offering a gourmet vegan, gluten free menu daily, special diet diners have no fear, Cafe Gray has you covered. And not only covered, it will knock your socks off thanks to Chef Gray Kunz! The Revitalizing menu is innovative, the dishes works of art  and the flavor profiles are outstanding. I was blown away by the tasting menu, a thoughtful 3 course meal, every dish is enchanting.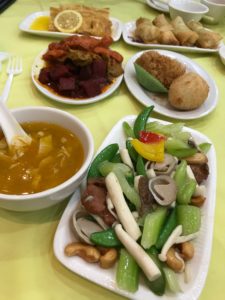 If you're heading over to LanTau Island to see the Big Buddha, be sure to bypass the chain restaurants in Ngong Ping Village and dine at the Po Lin Monastery. A fully vegetarian restaurant within the monastery, you'll revel in all the yummy, veggie Chinese food you've been craving all trip long!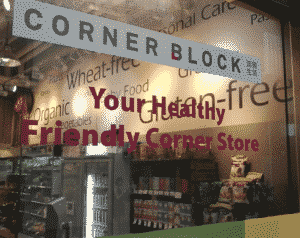 If you're in need of some goodies and necessities, pop over to Corner Block Market in Central. Corner Block is a one-stop organic and allergy-free food shop for people looking for a healthier lifestyle. The store is also perfect for those who are passionate about being environmentally friendly and living green. For those with busy schedules, Corner Block's fresh produce can also be purchased online and delivered right to your door!
I love a fresh and light meal and Mana Cafe offers exactly that. Serving middle eastern style salads, sandwiches and other tasty vittles, Mana is a great place for a quick sit down or a fast take away. All I can say is, I am still craving their zaatar crisps!
One of the many places that Green Common was able to affect is Pizza Express. A pizza restaurant chain in and around Hong Kong, PE now offers Beyond Meat Chicken for their pizzas, salads and pastas as well as a delightful gluten free crust. In the city or at the airport, Pizza Express is a great option for a tasty slice!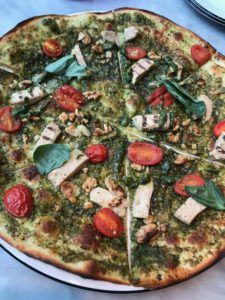 On my way to dinner I was ushered into the brand new Coa Tequila and Mezcal Bar. And I was glad I was! A Oaxaca inspired, handcrafted cocktail bar in the heart of Old Town Central, I was stunned that I could learn so much about tequila and mezcal because living in Southern California, you'd think I hear it all. No Way! I was schooled by the proud owner and mixologist, Jay Kahn, who not only knows his stuff, he loves it. Every detail of the bar down to the garnish is well thought out, bringing a taste of Mexico to the far east.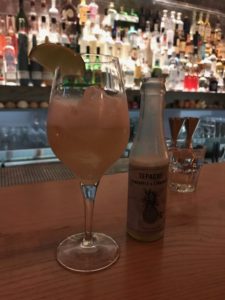 Like you may have read in my last post, Hong Kong is filled with theme cafes. I popped into a Harry Potter one, a bunny one and I couldn't leave without stopping by the Charlie Brown Cafe. A fully Peanuts themed cafe, stop in for a snoopy decorated latte and leave with a bunch of Peanuts memorabilia!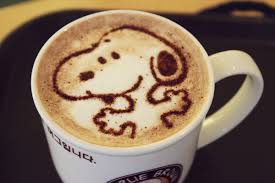 That's a wrap on Hong Kong for now but rest assured that when I go back, I'll report back with the latest and greatest info!
*Very special thanks to Discover Hong Kong for the once in a lifetime experience!