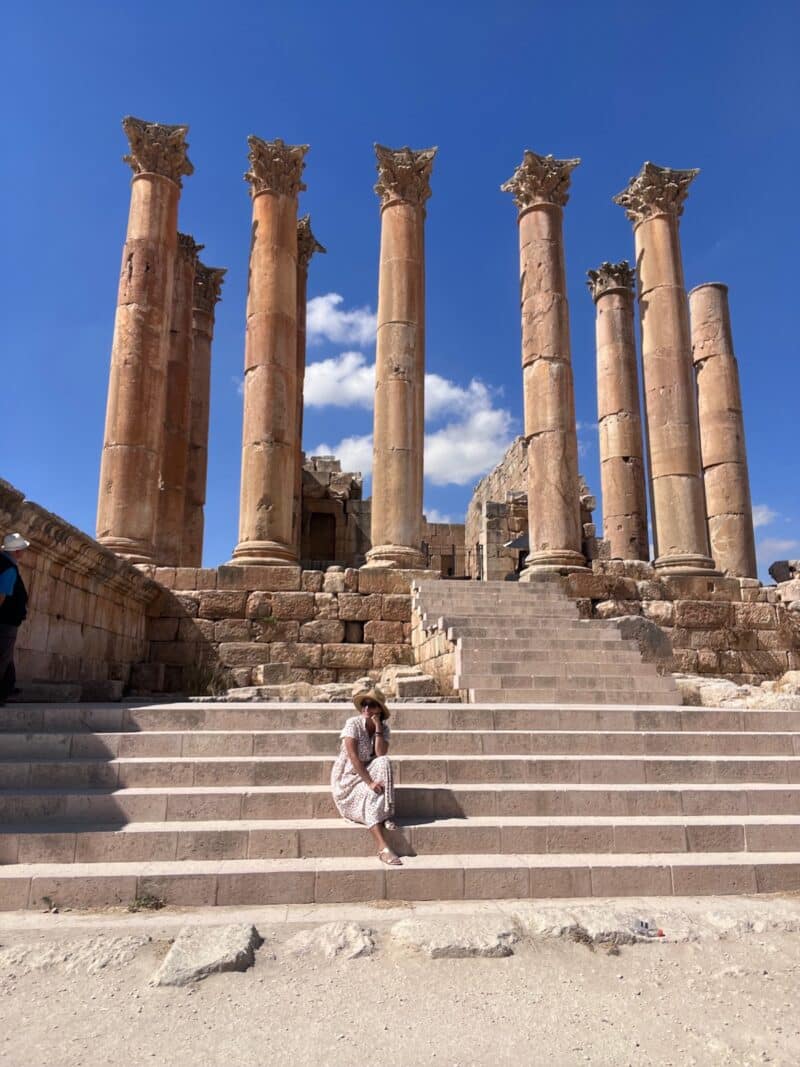 Amman, the capital of Jordan, is a modern city with numerous ancient Greco Roman ruins strewn through and around this middle eastern metropolis. It is where most tourists begin and end their journey to Jordan, however, so many pass up all that Amman has to offer as they speed out of town to see Petra. Yet, Amman is a marvelous attraction all its own and should not be missed! From a hip, young cultural scene to the magnificent ruins of Jerash and everything in between, let me entice you to spend a few days taking in this modern city steeped in rich history. Join me as I discover the best places to stay, see and find vegan food in Amman Jordan!
Where to stay
Amman is quite large so I would suggest renting a car or hiring a tour guide that has transport. Many of the sites a a few hours outside of Amman so you'll want to be mobile as the main sites aren't walkable from the downtown hotels. That being said, being downtown is where it's at for convenience when in town.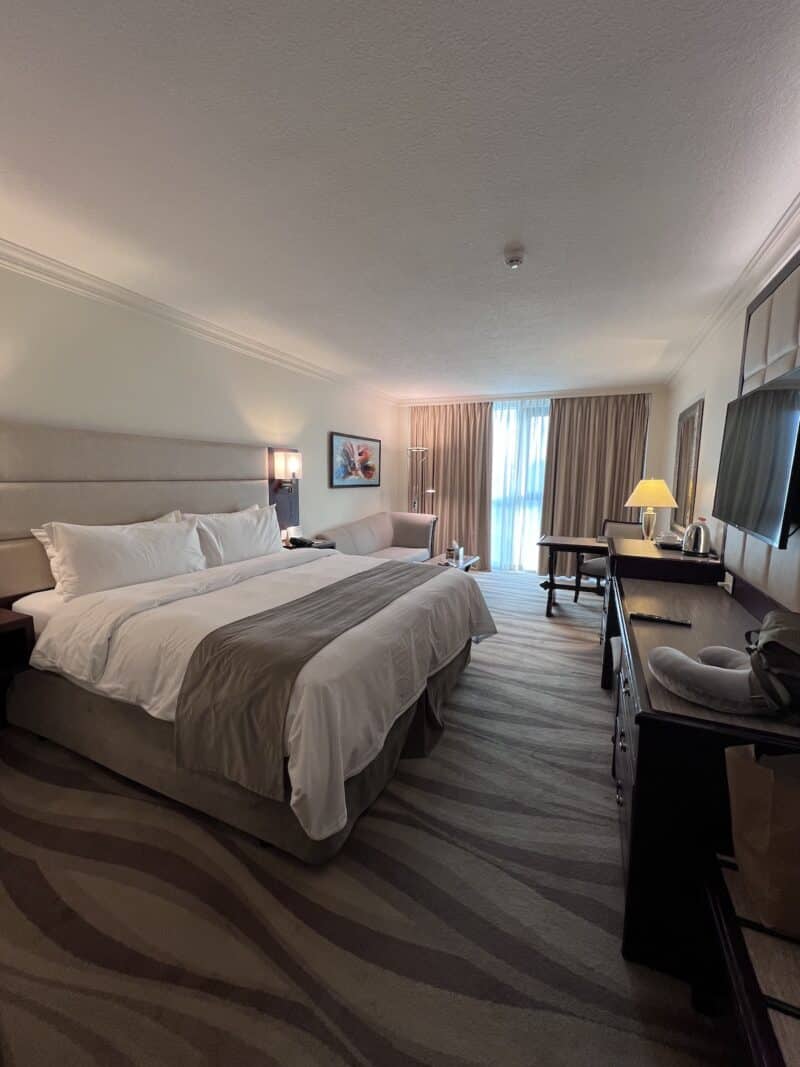 The Landmark Amman is conveniently located a short walk away from the old city Jabal Al Weibdeh, as well as the new downtown area of Abdali. Driving distance to Queen Alia International Airport is 30 minutes and hotel and conference guests have complimentary access to ample parking on site.
The five-star Amman hotel has become a popular favorite amongst discerning  travelers looking for a stylish city center retreat. Their rooms and suites are amongst the largest hotel accommodations in Jordan, providing a luxurious space alongside sweeping panoramic views of the historic capital.
The hotel boasts six restaurants and lounges that serve a delicious range of dining options. Sample the finest Japanese delights at Skyline Sushi, a creative concept where you can learn the art of origami. Or enjoy fresh local cuisine and international dishes at Colours all day dining restaurant. Later, you can soak up the atmosphere after dark from Ghoroub, the city's longest outdoor bar.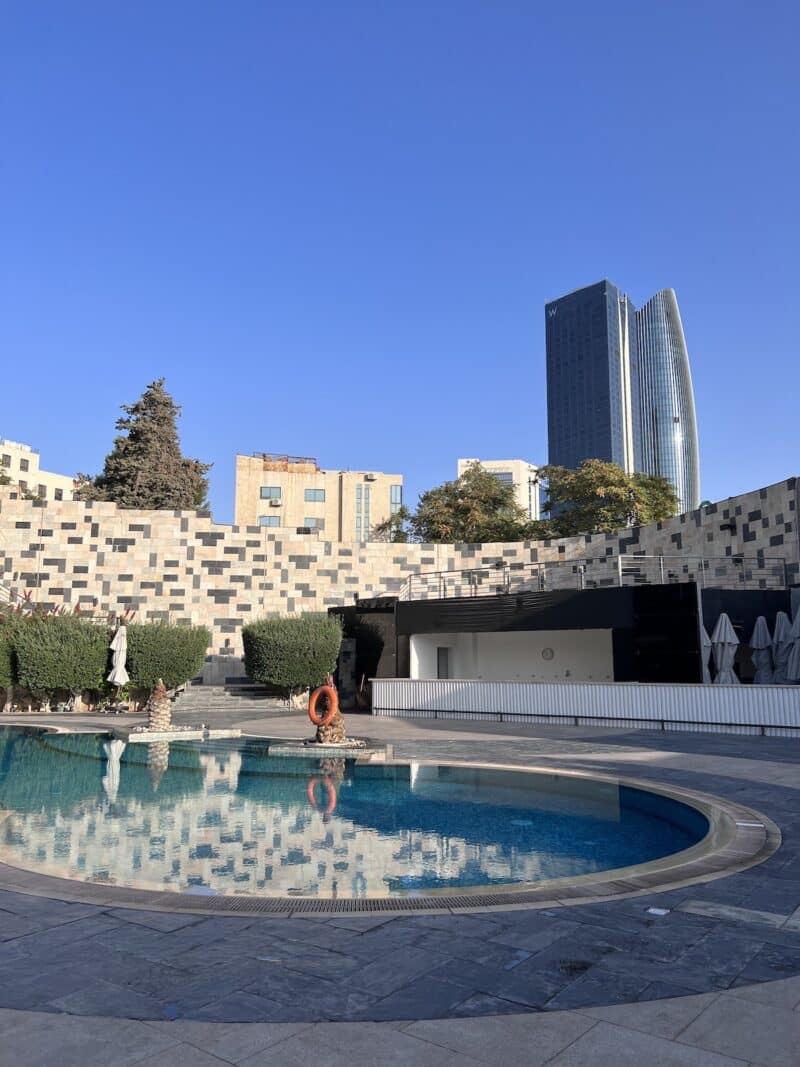 And with Amman's growing wellness scene, The Landmark is at the forefront with their latest smart synced equipped-gym with a cardio and weights area, as well as a sauna and jacuzzi. If you prefer to take advantage of the great outdoors, the well lit tennis court is the perfect spot to sharpen your game. And for times when you need a little more help to unwind, massage and beauty treatments are available upon request. And if time permits, be sure to take a dip in their beautiful pool and relax at the Zest Pool & lounge, surrounded by lovely citrus and olive trees.
Historical Sites
Amman, the capital city of Jordan, has a rich history dating back to ancient times. The city is home to many significant historical sites in and around Amman that attract tourists from all over the world. Among them, the Citadel and Roman Theatre in the downtown area are some of the most popular tourist destinations, while Jerash and Um Qais are an easy drive away for day trips from Amman to see some of Jordan's incredible historical sites.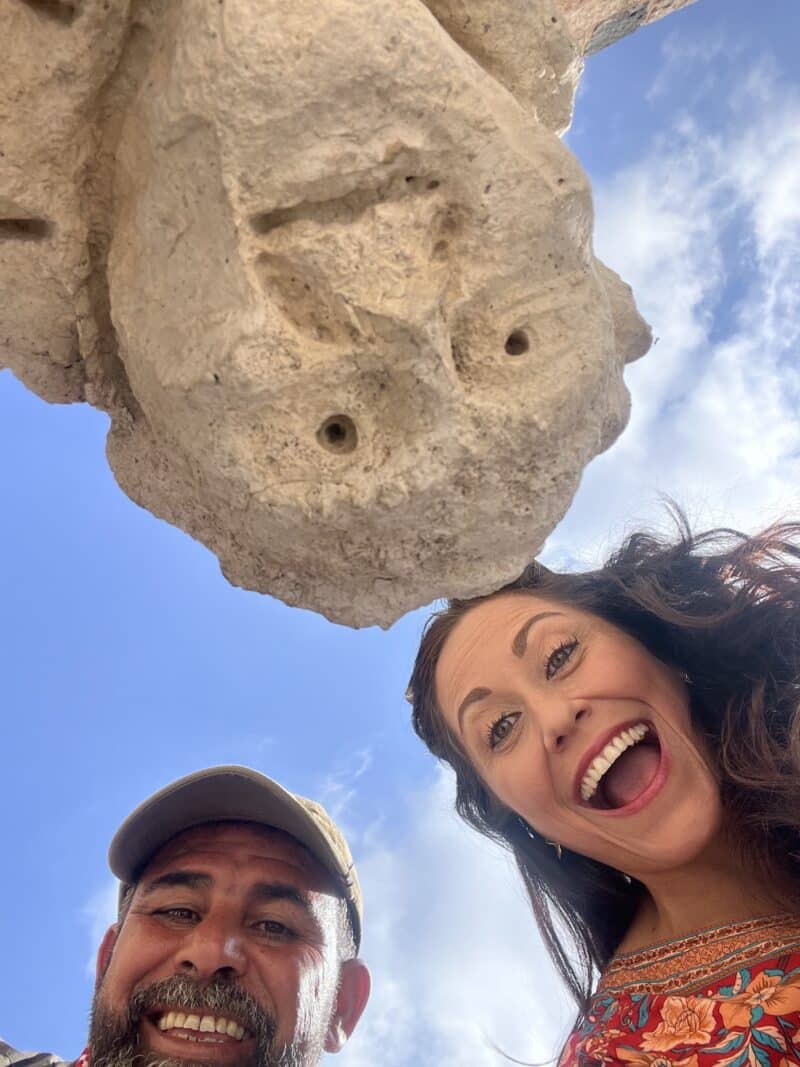 Um Quays is a fascinating archeological site located approximately 110 km north of Amman. The site is an ancient Roman city that dates back to the 1st century AD. The ruins of this ancient city are well preserved and provide visitors with a glimpse into the past. Um Quays is also known as one of the best-preserved Roman cities in the world. The city has many ancient structures, including a theater, a basilica, and a bathhouse. Additionally, the ancient city also provides stunning panoramic views of the Sea of Galilee and the Golan Heights in Syria.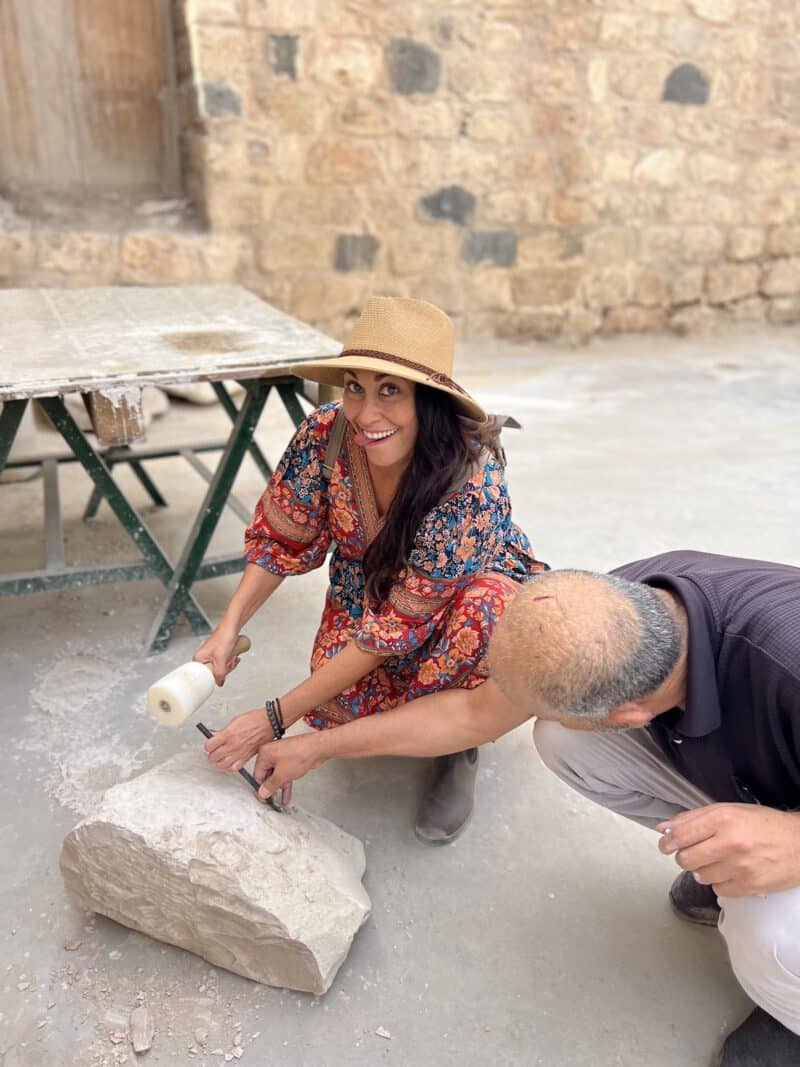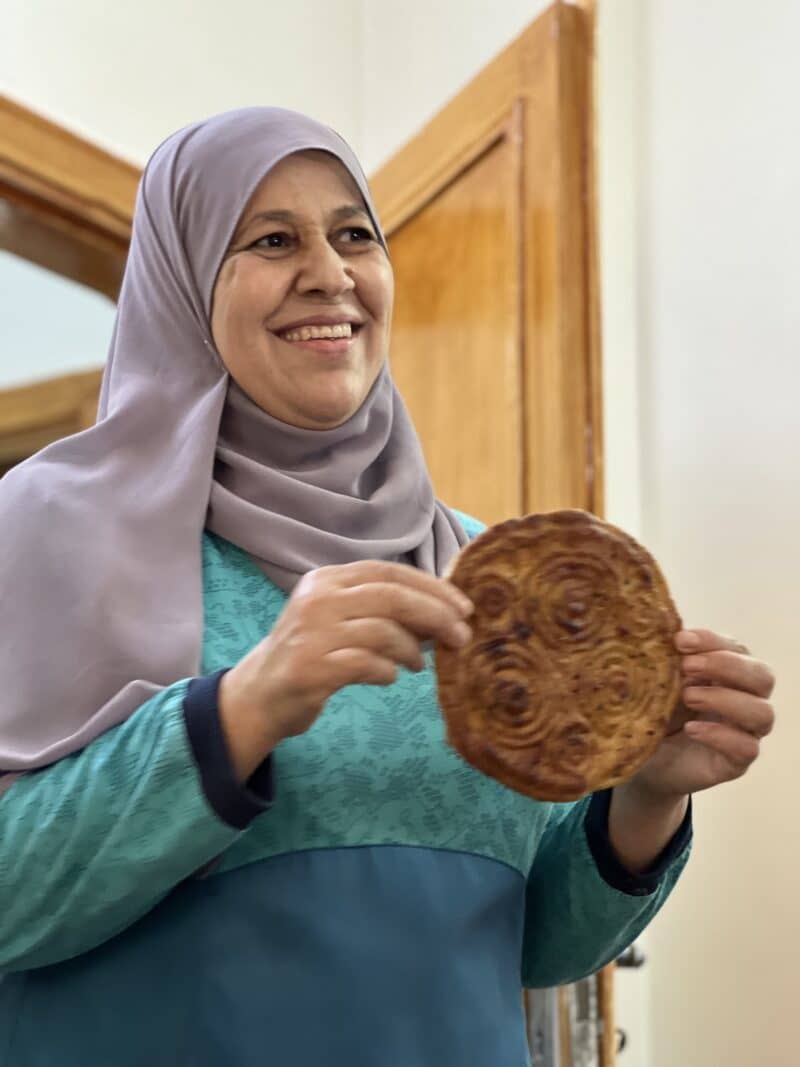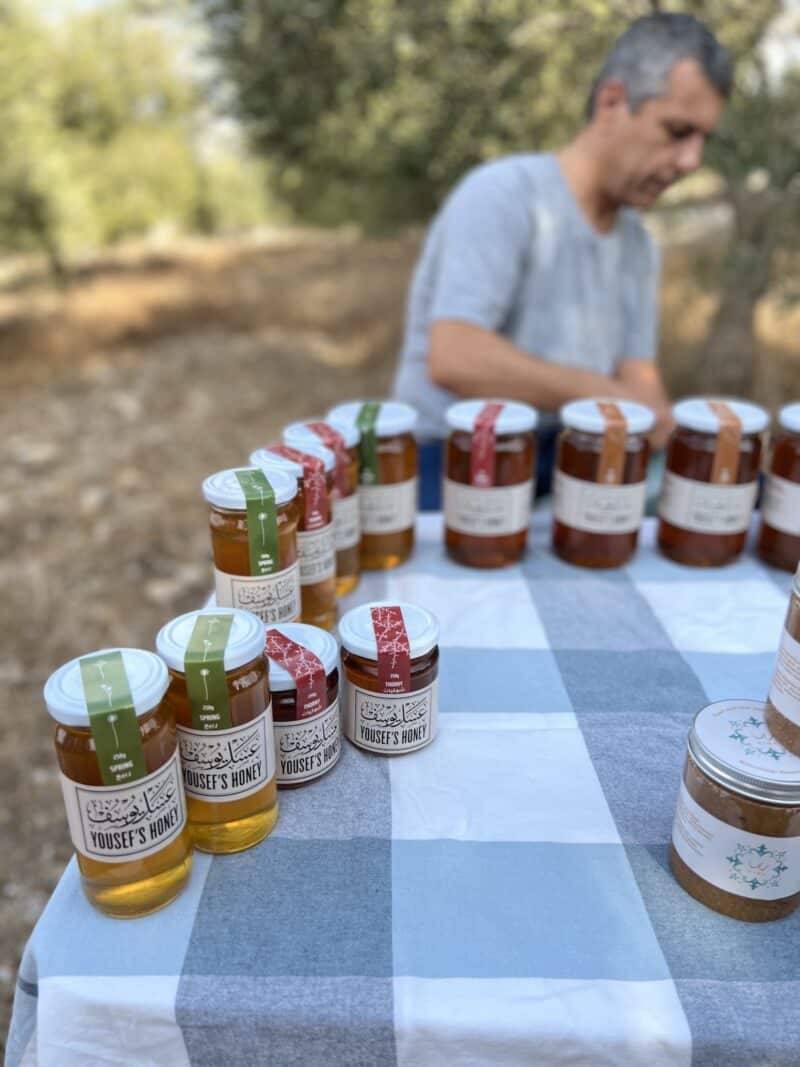 Also, if you plan your visit with a guide, be sure to ask about the stone carving activities available as well as inquiring about visiting local farmers and artisans like Yousef's Honey and homemade lunch hosted by a local family like Galsoum Kitchen or locale such as Beit Khayrat Souf. These activities add a wonderful touch to an already special place while many provide jobs for local women and youth, helping them to help their communities thrive.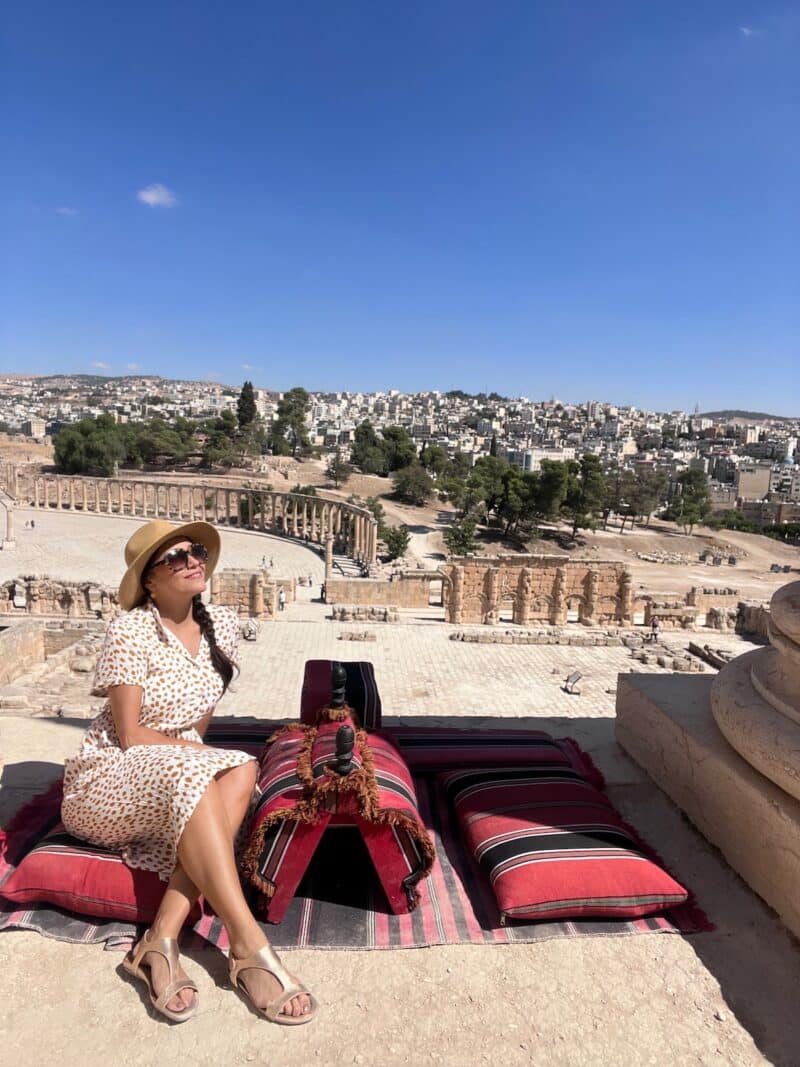 Jerash is another significant historical site located approximately 50 km north of Amman. It is an absolute incredible sight to see and walk in the footsteps of history. Jerash is a well-preserved Roman city that was once a bustling metropolis during the Roman period. Today, visitors can explore the ruins of Jerash that include impressive structures like the Temple of Artemis, the oval plaza, and Hadrian's Arch. Jerash is also famous for its annual Jerash Festival of Culture and Arts, which showcases Jordan's rich cultural heritage.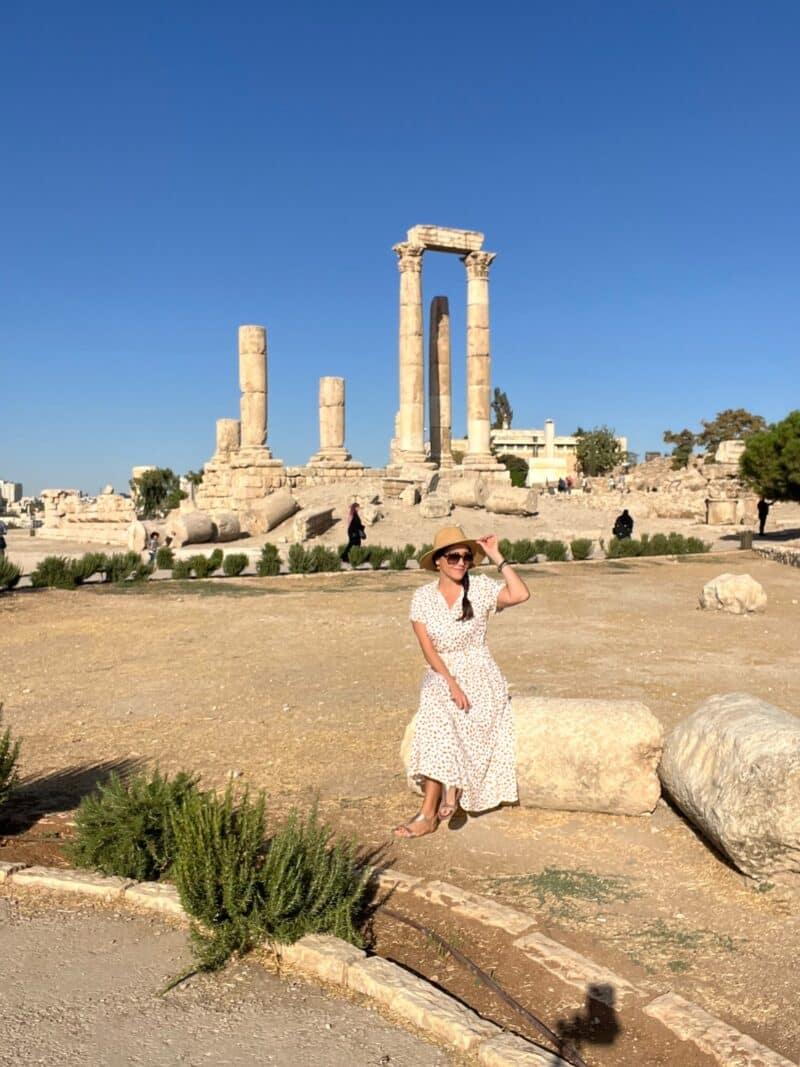 The Citadel, also known as Jabal al-Qal'a, is a historical site located in the heart of Amman. The Citadel has a long history dating back to various periods, including the Bronze Age, the Iron Age, and the Roman, Byzantine, and Islamic periods. In fact, it is the very spot that Amman was founded. The site has many ancient structures, including the Roman Temple of Hercules, the Umayyad Palace, and the Byzantine Church. The Citadel also provides stunning views of the city as well as the Roman amphitheatre, not to mention it is also an excellent spot to take in the sunset.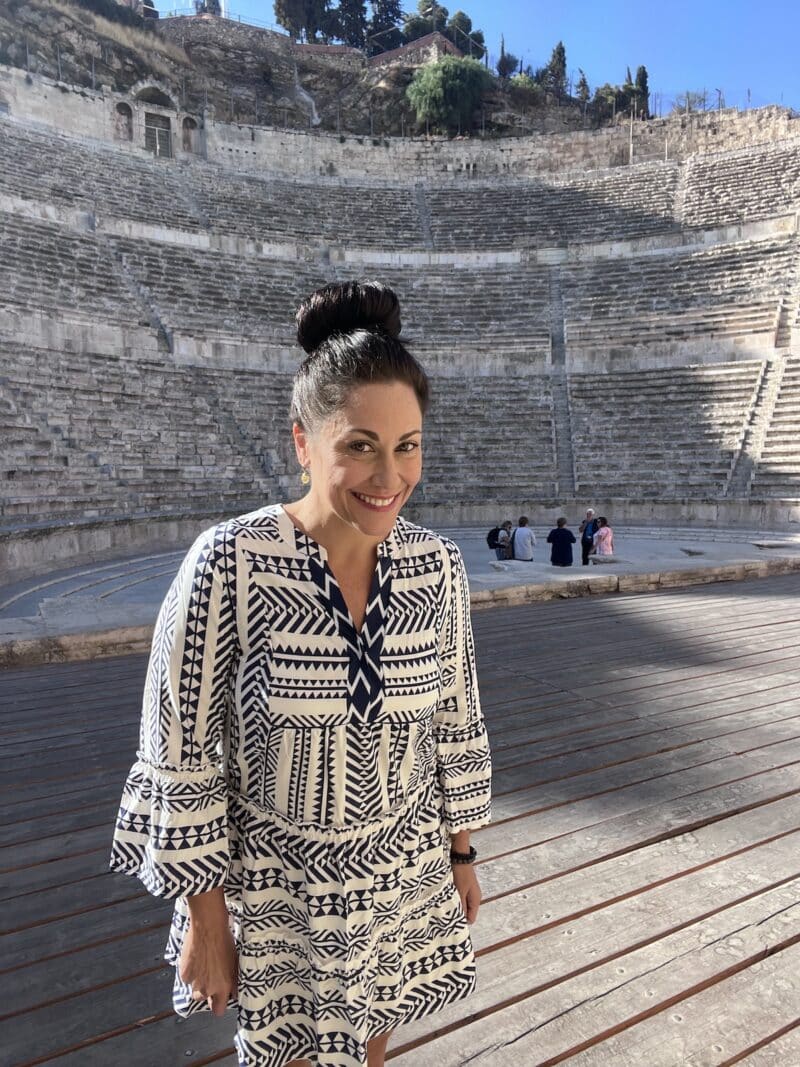 The Roman amphitheatre in Amman, Jordan is a stunning example of ancient architecture and a must-see destination for history lovers. This impressive structure is over 2,000 years old and has been excellently preserved for visitors to explore. It is believed that this amphitheatre could have seated over 6,000 people and was used for performances, political events, and gladiator contests. With its intricate arches and stunning views of the city below, the Roman amphitheatre is a true marvel of engineering and a testament to the ingenuity of the ancient Romans. If you're planning a trip to Amman, be sure to add this incredible attraction to your itinerary!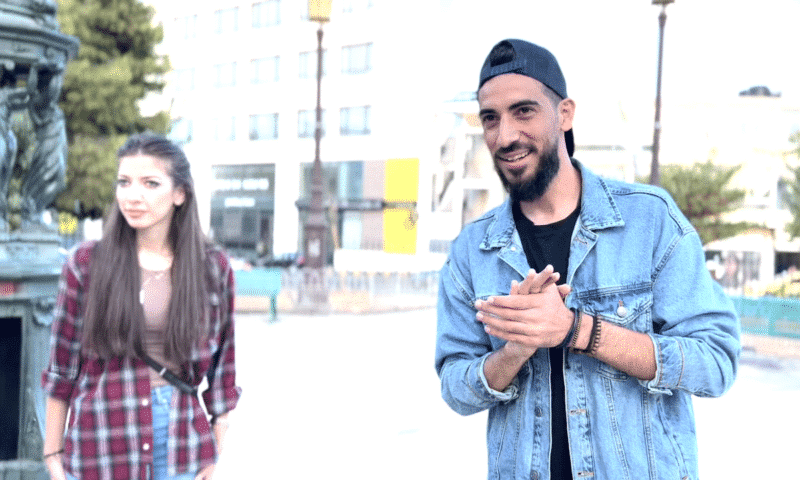 Lastly, I encourage travelers to take a walking tour of the old city of Jabal Al Weibdeh, which has now become the artsy and "hipster" area of the city. Adorned with local street art and peppered with great cafes, bars and a cool food scene, a tour such as Through Local Eyes, truly showcases the history of the area and its inhabitants as well as how the modernization of Amman still pays homage to its roots and culture.
Where to Dine
Ok, if you know me, you know I love to hunt for hidden culinary gems when I travel. And Amman doesn't disappoint!
If you are unable to break away and try some of Amman's vegan offerings, there are plenty of "accidentally vegan" dishes all over Jordan at hotels, restaurants and even street food! One of the most popular vegetarian dishes in Jordan is mansaf, made with jameed, a dried yogurt, and served with rice. Another popular dish is mujadara, which is made with lentils and rice. It can easily be made vegan by substituting the traditional meat with extra lentils. Mujadara is a staple food in Jordan and is commonly eaten for lunch or dinner.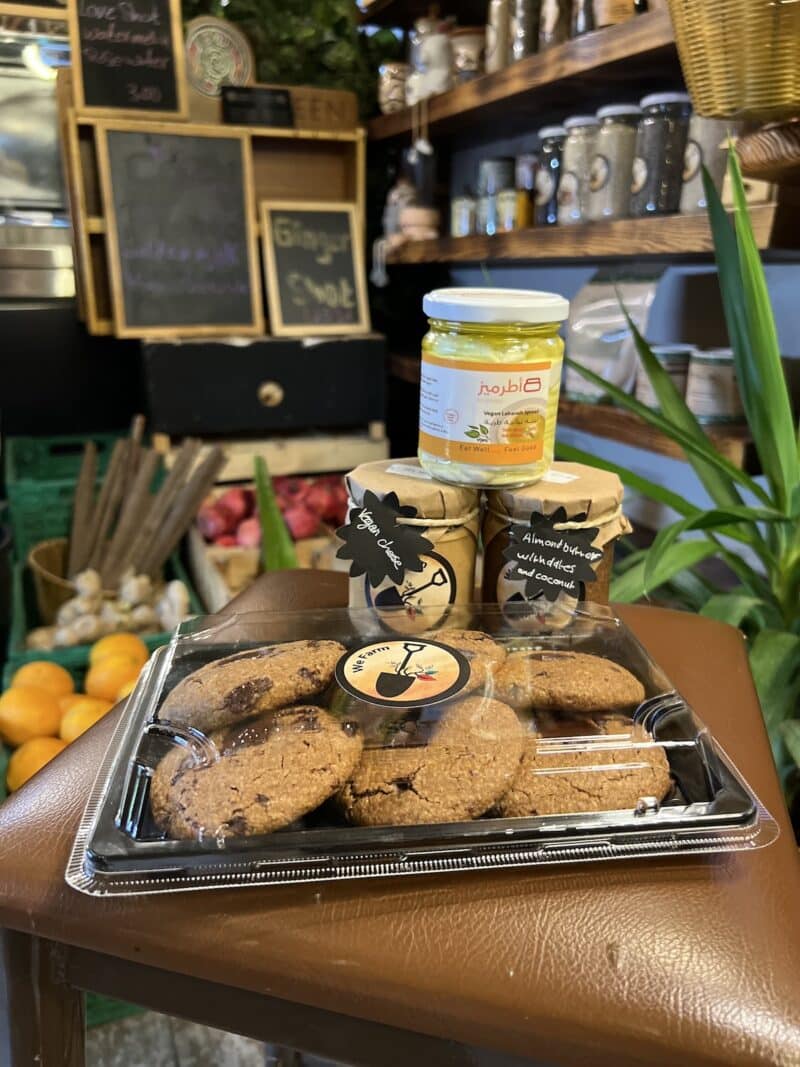 In addition to these traditional dishes, vegans in Jordan can also find a wide range of international cuisine that is suitable for their dietary needs. Many restaurants now offer vegan versions of popular dishes such as falafel, hummus, and vegetable kebabs. These dishes are not only delicious, but are also affordable. They are readily available in most restaurants and cafes throughout the country.
However, if you are able to check out some of the new and emerging vegan eateries in Amman, here are some places of note!
Within Weibdeh, the hipster neighborhood, there are several options. One of my faves is We Farm, a small organic market and to-go food eatery that makes all of its products and food from scratch, including the ice cream they make while you wait! They grow their own food at a local farm which is used in all of their homemade products. It's not only an adorable cafe, it's delicious too!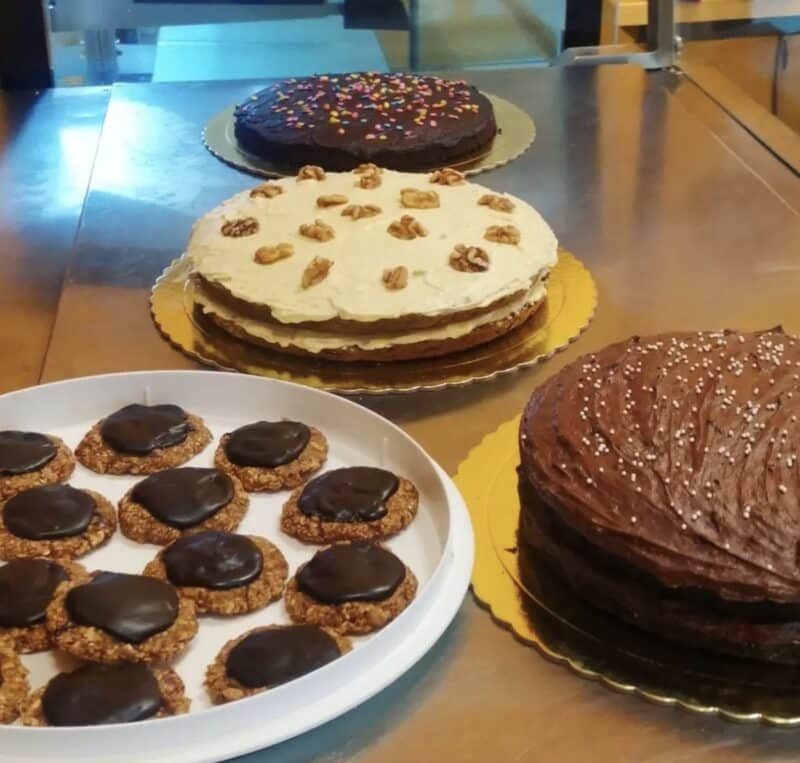 If you have a sweet tooth or a big appetite, try the fully vegan V Spectrum! With a menu that offers both savory and sweet, diners get to enjoy scratch made sandwiches, soups and veganized traditional Jordanian dishes along with cakes, cookies and other tasty treats.
For those looking to chill with fellow travelers and veggie eaters, look no further than Carob. Located within the Carob hotels, this plant forward eatery serves veggified  international cuisine, giving guests a variety of dishes to choose from.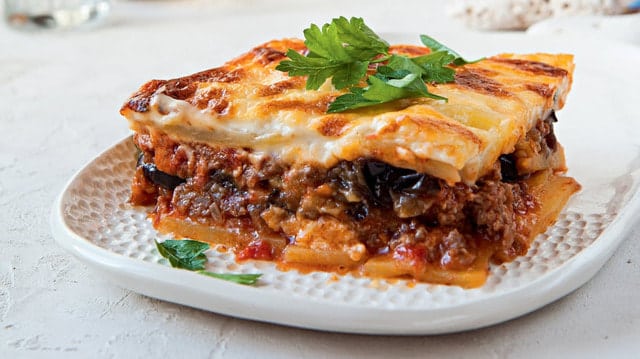 One of the first fully vegan restaurants, started by a female Romanian Jordanian chef, Bayt Sara is a must visit. Her food is fresh, delicious and her message is timeless. An activist spreading the healthy message through people's stomachs is worth celebrating! So unique, Sara's creations are Romanian-Italian-Jordanian-Hungarian homemade food & sweets free of sugar.
I could spend a full week in Amman and still not scratch the surface of the terrific plant based options available as the scene is growing every day. I look forward to coming back and experiencing even more but until then, this is a wrap on Amman. Stay tuned for more coverage on magical Jordan coming up next and I hoped you enjoyed my guide tothe best places to stay, see and find vegan food in and around Amman Jordan!
*Special thanks to Jordan Tourism and IFWTWA for the incredible trip