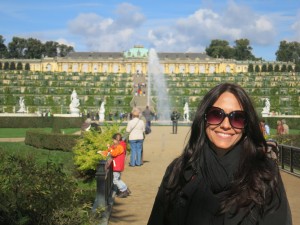 Just outside of Berlin, you'll find Potsdam in the neighboring state of Brandenburg. A cute town that's home to Potsdam Castle, also known as Sanssouci, the University of Potsdam and yep, a bunch of yummy vegan food!
Sanssouci is absolutely breathtaking and a great place to spend an afternoon. With gorgeous gardens and a variety of beautiful buildings to see, it's perfect for a stroll and a picnic. The former summer palace of Frederick the Great, King of Prussia, is the perfect place to start off your Potsdam adventure!
Downtown Potsdam is quite charming what with shops, entertainment and lots of dining options, it's a good place for families to find something for everyone. In fact, there are lots of veggie options all over downtown Potsdam!
For those with a sweet tooth, Chocoladen is the place. A gourmet chocolaterie, they offer a great variety of vegan and gluten free treats. It's like a veritable Willy Wonka paradise!
Still looking for more things to satisfy your sweet tooth? Good Deats is also a chocolaterie that offers up gourmet coffees, cookies, cakes and delicious desserts. It's adorable, 100% vegab and located right in downtown Potsdam so be sure to stop in and walk off your calories afterward!
A quaint little vegan restaurant, Madia is a good choice for plant based comfort food. With some raw options, every day the menu changes so you never know what you will get. It's comfortable and the food is fresh and clean. Plus the chef is always there to answer questions or handle any food allergies!
And if you're up for some yummy Thai, Lemongras is for you! With tons of vegetarian and vegan options, the sweet folks at Lemongras will warm your heart as well as your tummy ; ) I loved my vegan pad thai and devoured my veggie dumplings, perfect for a chilly evening in Potsdam!
Well, that's a wrap on Germany but next week, Greece!