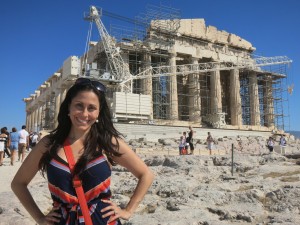 Greece is like no place else on earth. It's beautiful, so full of incredible, mystical history and the general atmosphere just feels like vacation! I fell in love with Athens and the surrounding area and beaches and am so excited to share my favorite sites and bites with you!
You can't visit Athens without stumbling across ruins. The most famous of course is the Acropolis where you will see a ton of temples in various states of disrepair. All around the famed mountain in the center of town are more ancient ruins, broken columns and historic buildings, great shopping, dining and places to enjoy the views. In fact, some of the most incredible nights I spent in Athens was in the winding little streets around the Acropolis, one where stairs climb the hill with restaurants and bars lining each side and people sit on cushions on the steps enjoying the fabulous night air and the glowing ruins above. So much to discover and enjoy!
Some travel tips:
Yes, everything is written in Greek letters! Even my gps showed the names of the streets in Greek. BUT all the street signs have the roman alphabet below so if you can use google maps or a tourist map, check the bottom of the street signs to help find your way!
Most restaurants have delicious vegan options. Some items to looks for are : Dolmas (make sure they don't have meat in them but usually they will say vegetarian), Fava Bean Dip (closest thing to hummus as hummus is not greek) Spanakorizo (spinach cooked with rice) or Laxanorizo (cabbage risotto), while spring sees the arrival of fresh peas with dill and potatoes and Aginares a la polita, a dish of boiled artichokes with carrot and onion, Imam baildi (eggplant stuffed with tomato, onion and garlic), Bamies (okra in tomato sauce), Gemista (tomato and peppers stuffed with rice) and Dakos (cretan-style barley rusk with tomato, onion and olive oil.)
The metro is small but it's one of the cleanest in Europe and gets you exactly where you need to be to see all the sites. In fact, they are all pretty much in walking distance of each other.
Make sure you check out the changing of the guard. They do it on the hour, every hour for 24 hours and it's cute ; )
Make time to go to the beach and/or take a ferry to check out the greek islands!
Ok, let's chat about food!
One of my first delicious vegan meals was at Avocado. A fully vegetarian establishment, they've got lots of vegan options to chose from. It's cool looking, the vibe is nice and the food is yummo! I had some awesome black bean patties with a killer tofu mint sauce, a fabulous potato and mushroom panini and delicious chocolate pie! And there are so many more options too!
My next amazing vegan meal was at Rosebud and made one of my top 3 meals in all of Europe! Rosebud is a cool, hip place in the cool hip part of town called Kolonaki. A vegan restaurant, bar and place for live music with a terrific menu and some of the best food in all of Athens. In fact, their vegan souvlaki was a hit with my non-veg friends who claimed it was better than the traditional meat souvlaki! Ok, so my souvlaki was the bomb and their vegan pizza was incredible! The staff is super friendly and I still dream about my yummy meal ; )
If you happen to have a hankering for some Latin flavors while in Greece, pop into Meson el Mirador. Some pretty delish Mexican food with a wide variety of veggie options. Plus the location can't be beat with it's wonderful view of the Parthenon that you can take in along with a margarita!
I always stay in an apartment when I travel so that I can cook when I want or at the very least, have a place to store leftovers and snacks. I stumbled upon Bamboo Vegan market and stocked up on some awesome vegan goodies! From one of my favorite vegan cheeses in the world to vegan treats that can't be found anywhere but there, Bamboo also has sandwiches, freezer goods and the lovely couple that runs it, serves you with a smile! I was so stoked to find and meet them and hope lots more visitors pop over to shop!
Join me next week for some more yummy vegan eats in Athens!