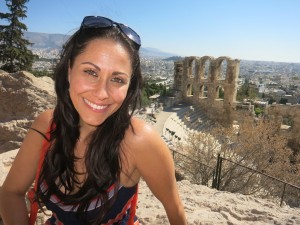 Yep, I had to come back for a second round of veggie Greek yumminess! One of the neatest, most magical and ancient cities, it's also a wonderful city to soak in the sites with incredible drinks and delicacies. If you missed my first post, be sure to check that out so as to not miss the terrific dining spots and city highlight tips I mentioned. But here, I'm going for more!
A super fun joint is Improv. A 100% vegan cafe and rock bar (yep, rock music rules here), they also serve up delish vegan dishes along with bad ass tunes ; ) The keftedakia is fab as is their version of the Greek Salad (horiatiki) but for sure, an absolute must, is their desserts. Cheesecakes, cupcakes, donuts, oh my!
In search of a tasty pizza pie? Mystic Pizza rocks! With vegan and gluten free options (they use cannabis flour!), everyone in your party will enjoy their meal. Organic, local, tasty and eco-friendly, their pizza and pasta is incredible and I LOVE their use of hemp, stevia and local sea salt in their dishes.
Another hidden gem is Rakor. Quaint and sweet, Rakor offers tasty soups, salads and mezes, perfect for a light meal or even a hearty dinner. Veggie burgers and pastas, beer and wine, it's a great place for a romantic bite or a fun group meal!
Lastly, I was happy to stumble across an eatery in the heart of tourist land that was so accommodating to special diets. Arcadia, at the base of the Acropolis, is a nice sit down cafe with a great menu. The staff is very nice and the food is affordable, hearty and delicious! I highly recommend the falafel and dolmas, yum!
That's it for Athens (for now) but next week we move to the Aegean sea side town of Vouliagmenis!