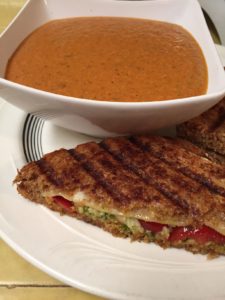 Who doesn't love tomato soup? It's comforting, tasty, nostalgic and good for you! And with this recipe, you can whip up a batch of tasty creamy fire roasted vegan tomato soup in a flash!
Salt and pepper, to taste
Heat olive oil in a large saucepan over medium heat. Cook and stir onion and garlic in hot oil until fragrant, 2 to 3 minutes.

Pour vegetable broth over the onion mixture; add tomatoes, 1 tablespoon basil, sugar, and red pepper flakes. Bring the mixture to a boil, reduce heat to medium-low, place a cover on the saucepan, and simmer until the tomatoes are really soft, about 15 minutes.

With a hand held, immersion blender, blend soup until creamy, careful to keep blender from splashing.

Put pureed soup over medium heat and cook until hot, about 5 minutes. Stir remaining tablespoon basil and the cashew cream into the soup.
Serve with a delicious vegan grilled cheese and enjoy!