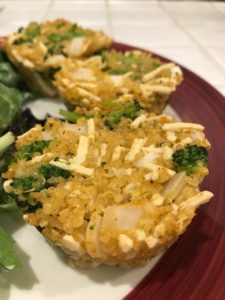 It's chilly out there so warm and hearty foods are in order these days. Plus, we're all back to school and work so time is short. With my yummy vegan cheesy quinoa broccoli bites recipe, you can whip up a tasty yet hearty snack and meal in no time and be enjoying them by a roaring fire in no time!
1 1/2 cups cooked quinoa
2 egg replacers, already mixed
2 cups broccoli florets, finely diced
1 cup yellow onion, finely diced
1 garlic clove, finely minced
1½ cups shredded vegan cheddar cheese
1/2 teaspoon Italian seasoning
Pinch of white pepper
Salt and pepper, to taste
In a large bowl, combine all the ingredients until fully incorporated.
Preheat oven to 350° F. Spray mini-muffin tins with cooking spray.
Put a heaping tablespoonful of quinoa mixture into prepared muffin cups. Bake for 15 to 20 minutes, or until edges turn golden brown. Remove from oven and let cool for 5 minutes and then gently remove from pan to cool completely.