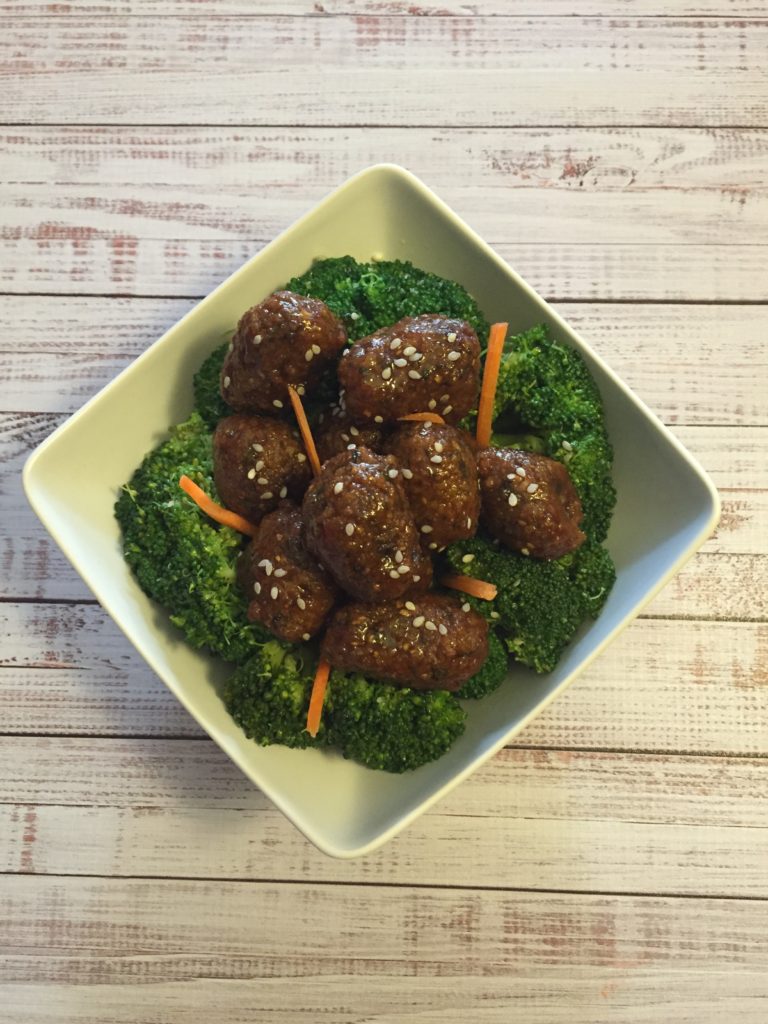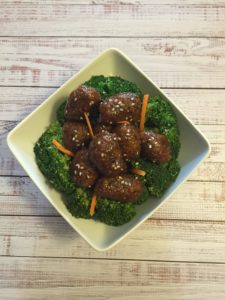 People love orange glazed chicken, it's a popular dish at most Chinese restaurants. But for veggies, the only option is either fake chicken or tofu which stinks if you're soy and/or gluten free. But veggies with food allergies rejoice with my yummy vegan Asian Style Orange Quinoa Bites recipe! Pair with some garlic broccoli and brown rice and you've got a meal fit for General Tso!
3 cups cooked quinoa
1 cauliflower head, chopped, steamed and drained
2 garlic cloves
1 small onion, finely minced
1 cup breadcrumbs (gluten free, if desired)
1 cup San J Orange Glaze Sauce, divided in half
2 tablespoons orange zest
2 tablespoons sesame seeds
1/4 – 1/2 cup  flour
Salt and pepper, to taste
Sesame oil, for cooking
Sesame seeds, for garnish
Extra orange zest, for garnish
1. Preheat oven to 375°.
2. Place HALF the cauliflower, along with the garlic, into the food processor and pulse for 5-10 seconds.
3. Remove and pour cauliflower into a bowl before adding the second half of cauliflower to the food processor and repeating the process, removing and placing into the bowl.
4. Stir quinoa, breadcrumbs, onion, zest, sesame seeds and half of the orange sauce together with the cauliflower. Add in the flour one tablespoon at a time until you have reached a sticky, meatball/falafel consistency.
5. Place the bowl in the refrigerator for 10-15 minutes to set.
6. After 15 minutes, remove from refrigerator and, using your hands, form mixture into golf ball-sized balls or bite sized-fritters, placing each directly onto a large skillet.
7. Drizzle 1 tbsp of sesame oil on the skillet and then cook meatballs on medium-high heat, making sure to be careful when flipping them over, until they're golden brown on all sides.
8. Pour a small amount of the rest of the orange sauce overtop of each ball, making sure they all get covered with the sauce but you don't want them to be soaked with sauce or else they will get soggy.
9. Remove balls from skillet and place on a baking sheet; bake for approximately 15 minutes.
10. Remove from oven and enjoy!
*Don't want to fry? Brush sesame oil over top and bake for 30-35 minutes until the balls are golden brown and firm on the outside, yet soft inside. Coat with orange glaze after cooled for 2 minutes.