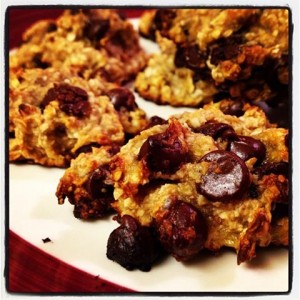 Have you been sticking to your healthy new year's resolutions but missing those sweet holiday treats? Well, we all need to have some fun some time and guess what? Treats can be healthy too! These little bites are packed with protein, antioxidants and vitamins and are free of gluten, oil, soy, sugar and are always vegan ; ) All the fun with none of the yuck! Plus they are super quick to make! Enjoy!
1 cup instant quinoa (for gluten free option) or oatmeal flakes
2 ripe bananas
2 tablespoons organic peanut or almond butter (add more if you want some more flavor)
1/2 cup organic cacao nibs (for a sugar free option) or vegan chocolate chips
Preheat oven to 350 degrees.
Combine all ingredients in a bowl.
Roll into balls or make drop cookies by dropping tablespoon sized cookies onto cookie sheet.
Bake for 15 minutes, remove and cool on wire rack.
Enjoy!