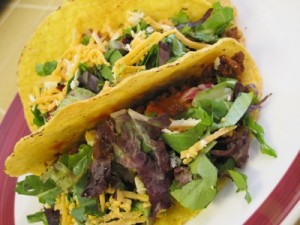 Just because we've said goodbye to summer, doesn't mean we must bid adieu to fun food! Now that the kiddies are back at school and life is back to normal, time is short and wallets have tightened. So why not whip up a quick, affordable and healthy meal to bring the fun back to a run of the mill weeknight? Semi-homemade meals can save you time while still affording you the choice to put in your own healthy ingredients. So check out how to healthify this old classic!
What you will need to assemble your tacos (Listed in the best order to keep your taco filled well):
1 package of organic, vegan hard taco shells
Taco "meat" filling (recipe below)
Salsa of your choice (click here for a simple salsa recipe in case you want to whip some up & not used store bought)
Avocado (sliced and diced)
Organic Mixed greens, chopped
Vegan cheese of your choice (I use cheddar daiya as it is ready shredded)
Vegan sour cream (for those who want to supreme it up!)
Organic enchilada sauce (red or verde)
Chickpea Taco Meat Filling
2-3 Scallions, chopped
1 T. olive oil
1 celery stalk chopped
1 green pepper chopped
1 15-19oz canned chickpeas
1/2 of a small can of tomato paste (depending on how thin or thick you want the sauce, you can use the full can)
A handful of chopped cilantro
1/2 tsp. gr. cumin
1/2 tsp. chili powder
dash of cayenne
squeeze of lime
In large saute pan, heat oil over medium heat. Cook onion, celery, and green pepper until softened. Add chickpeas, tomato paste, cilantro cumin, and chili powder. Stir and cook until warmed. Mash chickpeas slightly with a fork for better texture. Fill shells evenly with chick pea taco mix and squeeze a bit of lime on it before adding the above toppings.
With left over taco materials, you can also have Train Wreck – crunch your shells on the bottom of the plate. Pile on taco mix, salsa, lettuce, avocado, cheese, etc for a taco salad train wreck! Great for leftovers ; )
Enjoy on Meatless Monday!