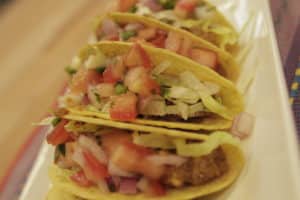 Learn how to make a fun taco dish with a raw twist!
Raw Vegan Walnut Tacos on The Healthy Voyager's Global Kitchen!
Enjoy a flavorful and refreshing dish
with this fun, healthy and easy recipe by The Healthy Voyager
and her special guest, Kathy Patalsky of Healthy Happy Life!
Watch the video below!
Raw Walnut Taco Meat
1 cup raw walnuts (soaked 3-4 hours and dried)

1 tablespoon ground cumin

1 tablespoon ground coriander

1 teaspoon garlic powder

1 teaspoon onion powder

1 teaspoon paprika

Pinch of cayenne

1/3 cup olive oil (optional if you want it oil free)

2/3 teaspoon sea salt

Black pepper, to taste

1 teaspoon  tamari or soy sauce
Pulse walnuts in a food processor until crumbly but not pasty. Dump processed walnuts into a  bowl and add other ingredients, mixing until all ingredients are well incorporated. Keeps for 4-5 days in the fridge. Use in tacos, burritos, salads and even on crackers!