So summer is just about over, 1 last long weekend left to eek out some swimming,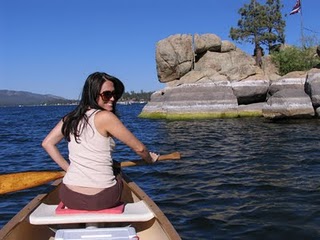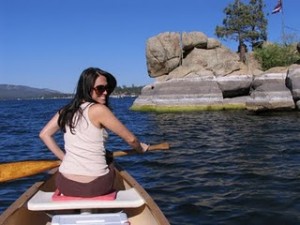 parties, camping, whatever, before fall rolls in and we say goodbye to fun in the sun. Sure fall brings crisp weather, changing leaves and the beginning of the big holiday months, but nothing beats care free summer days and relaxing summer nights. Here are a few tips & treats to make the last weekend of Summer '09 a healthy, affordable and memorable one!:
If you want an affordable, mini-getaway:
Camp by the beach – Frolic one more time in the sea, pack sandwiches and/or bbq foods along with your camping gear. Spend the night under the stars while the ocean sounds sing you to sleep.
Organize a hike or bike trip – Gather up your friends and find a local hiking, biking or outdoor activity park or town. Make the most of the outdoors while getting in some exercise, taking in nature and snackin' on some yummy treats. Rent a cabin if you are heading to a specific area as with big groups, it's a lot cheaper to share a house with a kitchen. Not to mention a lot more fun!
If you're sticking around town:
Host a game day & movie night – Have friends pop on over for a potluck or bbq. Host a tournament day that can involve all ages like a bean bag toss or a scavenger hunt. If you start late and go into the evening, project a movie on a wall and gather around to watch a flick under the stars.
If you host or attend a get together and serve up some of these exotic treats. They're a great way to bring the getaway to you!:

Virgin Pina Colada Popsicles
1 can light coconut milk
2 cups Pineapple juice
1 banana
Pour ingredients into a blender and puree. Pour into popsicle molds and freeze at least 4 hours.
Lavender Grapefruit Martini
(c) 2008, Natalie Bovis-Nelsen The Liquid Muse
1 1/2 ounces organic Vodka
1 heaping teaspoon organic lavender-honey syrup (can be made with agave nectar as well)
2 ounces freshly squeezed organic grapefruit juice
1/2 ounce freshly squeezed organic lime juice
1 organic edible flower
Lavender Honey Syrup: Heat 1/2 cup lavender honey (substitute with lavender infused agave nectar) and 1/4 cup water in a small sauce pan. Stir until boiling. Let cool. Set aside.
Pour ingredients into cocktail shaker, add ice. Shake vigorously, then strain into a chilled martini glass. Garnish with an edible flower or lime wheel.
Soba Noodle Salad
Dressing:
1/2 cup of seasoned rice vinegar
2 tbsp olive oil
1 tsp sesame oil
3 cloves of garlic, minced
2 tsp soy sauce
2 tsp sugar
Combine all ingredients thoroughly. Let sit for an hour.
Salad:

1 handful of cilantro leaves, chopped
1 handful of basil leaves, chopped
2 green onions, diced finely
1/2 red bell pepper, julienned
1/2 yellow bell pepper, julienned
1 cup of shredded carrots
1/2 cup of toasted peanuts
1/2 lb cooked soba noodles
Prepare all the vegetables, set aside. Once the noodles have cooked, rinse with cold water and drain. Once the noodles are cool, add the vegetables and peanuts. Mix the dressing again thoroughly then add to the noodles and vegetables. Stir until well combined and serve.
Grilled Tempeh Peanut Satay
1/2 cup grated coconut
2 tsp agave
1/4 tsp cayenne pepper
1/2 cup tamari
1/4 cup orange juice
1/2 lb of tempeh, steamed for 20 min
1/4 cup peanut butter
1 tsp sherry
1/2 tsp vinegar
1/4 tsp garlic powder
1 cup plain soy yogurt
Marinade:
Puree orange juice with only half of the agave, coconut, tamari and cayenne pepper in a blender. Cut tempeh into 2 cm cubes and add to marinade. Set aside for 1 hour.
Peanut sauce:
Blend remainder of agave, tamari and cayenne pepper together with the peanut butter, sherry, vinegar, garlic powder and soy yogurt. Refrigerate.
Thread tempeh cubes onto 4 skewers. Grill tempeh over medium-hot grill 3 to 5 minutes on each side. Brush kebabs with marinade and sprinkle with remaining coconut. Serve the tempeh kebabs with peanut sauce.
Ginger Mint Caipirinha Cooler
1 lime, quartered
1 1/2 tablespoons ginger syrup
1 sprig mint
2 ounces cachaça (or rum if you can't find cachaça)
1 quarter-sized slice raw ginger
Muddle lime with ginger syrup and mint. Add cachaça, shake and pour over ice. Add a raw ginger wedge for garnish.
Virgin Recipe :
1/2 diced lime
1/2 small diced lemon
1/2 small diced orange
1 sugar cube
ginger ale
fresh mint
Place the fruit in the bottom of a mixing glass. Add the sugar cube and a dash of ginger beer. Muddle to release the juices. Strain into a glass filled with crushed ice. Top with ginger beer. Garnish with mint.
Have a very happy, healthy and safe Labor Day!!