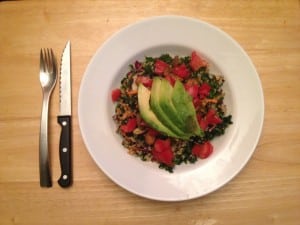 Spring is here so we're looking for fresh, light meals. As the weather warms up, we shed our clothes and look to spend less time slavin' over a hot stove.
For me, kale salad is so versatile and can be great as a light meal or a hearty entree. And this particular salad is the latter. And it's mmm, mmm, good! Plus, making your own dressing is not only cost effective, it's healthier and even tastier!
Kale Salad
1 large bag of kale salad (pre-made is great as it saves time and comes with shredded carrots and cabbage!)
2 cups cooked quinoa
1 large tomato, diced
1/2 cup savory nut mix (I used Go Nuts Rosemary Garlic Almonds)
1 ripe avocado, sliced
1/4 to 1/2 cup garlic dijon dressing (below)
Garlic Dijon Vinaigrette
1/4 to 1/2 cup vinegar, depends on how tangy you want it (I always use apple cider vinegar when I can)
2 tablespoons dijon vinaigrette
3-4 finely minced garlic cloves
2 tablespoons dried Italian herb mix (oregano, basil, rosemary, thyme, etc)
Salt and pepper, to taste
1 cup extra virgin olive oil
To make the dressing:
Add all ingredients, except for olive oil, into a medium mixing bowl. Mix very well, so all ingredients are smooth and well incorporated.
Begin to drizzle the olive oil in little by little, whisking into ingredients as it gets poured in. You can also do this in the container you will store it in and shake really well after all the olive oil has been added.
To assemble the salad:
Add the kale salad to a large mixing bowl. Massage for about 3 minutes by grabbing handfuls of kale and rubbing together in between your hands. Repeat over and over until you get the desired tenderness. You will notice that the leaves will become softer and even look like they are wilting a bit. This softens the texture and decreases the bitterness.
Once kale is massaged, toss in the quinoa, mixing well.
Drizzle in the dressing, tossing well to coat the salad mixture.
Plate your portions of salad mix and top with diced tomatoes, nuts and sliced avocado.
Enjoy!