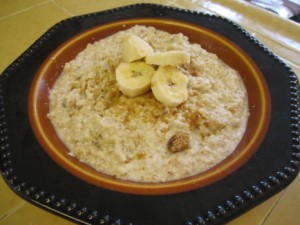 It's getting chilly out and nothing warms you up like a bowl of hot oatmeal in the morning. Sure, it's easy to pop a packet of the instant stuff in the microwave but it's full of preservatives and doesn't fill you up like the real stuff!  This recipe is not only simple and quick, it's filling and delicious!
1/3 cup steel cut oats
1/3 cup quinoa flakes
1 cup cashew milk (same as the almond milk recipe, just sub almonds for cashews and add a teaspoon of cinnamon to the ingredients)
1/8 teaspoon salt
Add all of your ingredients to a saucepan over medium heat. When the cereal begins to thicken, it's ready to serve. Top with organic brown sugar or maple/agave drizzle along with some sliced fruit like bananas, blueberries, raisins or strawberries. And to add some crunch, toss in some chopped walnuts or pecans. Enjoy!
Enjoy on Meatless Monday!