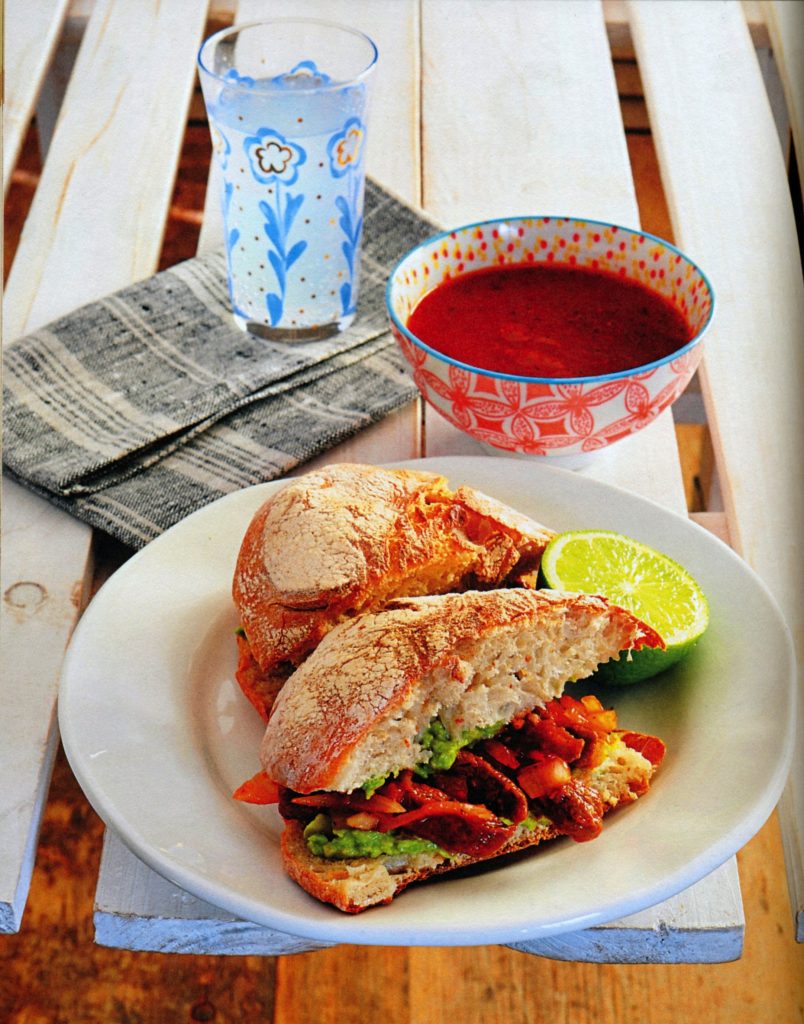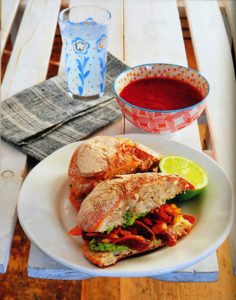 In honor of Cinco de Mayo, I'm sharing a recipe from The Healthy Voyager's Global Kitchen Cookbook! The "Drowned Sandwich" is a Mexican favorite. It's got just the right amount of kick but some like it hot so this is the perfect sandwich to go as spicy as you please. Move over French Dip, here comes something spicier! Buen Provecho!

Sauce

1 (10-ounce) can chopped tomatoes with diced green chiles

2 cups plain tomato sauce

1/4 cup chopped fresh cilantro

2 to 3 chipotle chiles in adobo, seeded and chopped

2 teaspoons adobo sauce from canned chipotles

Juice of 1 lime

Salt & pepper, to taste

1 cup vegan beef broth (make with vegan beef bullion)

"Meat"

2 tablespoons vegetable oil

1 large onion, thinly sliced

4 garlic cloves, minced

2 jalapenos, seeded and minced (optional if you don't like it to spicy)

1 pound plain

seitan

, thinly sliced or vegan "roast beef" slices, cut into strips

1 medium to large avocado, pitted, peeled and smashed

4 crusty sandwich rolls, halved and lightly toasted

Preparing the sauce: In a large saucepan over medium heat, combine the chopped tomatoes, chiles, tomato sauce, cilantro, chipotles, adobo sauce and lime juice. Add salt & pepper to taste. Simmer and stir then reduce the heat to medium-low and continue to gently cook for 15 minutes, stirring occasionally.
Remove the sauce from the heat and add the "beef" broth. Add the sauce to a blender, puree the sauce until smooth, it should be thin.  Be very careful when blending hot liquid. Doing it in batches and covering the lid with a towel while keeping your hand on it, pressing it down, is the best way to keep it from spilling out.  But if you have a hand/stick blender, this is a great time to use it! Keep warm until time to serve.
To prepare the meat filling: Place a large skillet over medium heat and add the oil. When the oil is hot, add the onions. Cook and stir until the onions until they begin to soften. Then add the garlic and jalapeno, stirring to incorporate ingredients well. Cook and stir for an additional 2 to 3 minutes, or until the onions are well browned and the garlic and jalapenos have softened. Add the "meat" and mix until heated and well combined, about 2 minutes. Add 3/4 cup of the tomato sauce to the roast beef mixture, tossing it to coat completely.
Making the torta: Spread the smashed avocado on both sides of the roll. Pile the "meat" on the bottom halves of the sandwich buns, close, and cut each sandwich in half. Arrange each sandwich on a plate with the dipping sauce on the side. Ladle the sauce into 4 bowls for dipping. Be sure the bowls are large enough so the sauce doesn't spill out when the sandwich is dipped. Dip and eat!