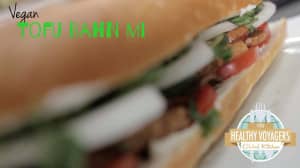 Learn how to make a fun and delicious twist on a Vietnamese dish,
Vegan Tofu Bahn Mi Sandwich,
on The Healthy Voyager's Global Kitchen hosted by Carolyn Scott-Hamilton!
Make meal time globally delightful with the The Healthy Voyager while enjoying a delicious, savory International vegan dish!
Watch the video below!
Tofu Bahn Mi
1/4 cup stalks of fresh lemongrass, washed and chopped

2 cloves garlic, peeled

1 large (14–ounce) block extra firm tofu, pressed and drained, sliced into 1/4-inch pieces

1/2 cup grapeseed or olive oil

5 tablespoons soy sauce or tamari

Pepper to taste

1 teaspoon sesame oil

Two 6 to 8-inch baguettes, sliced horizontally in half but not cutting all the way through (sub style)

Vegan mayonnaise, for sandwich (optional)

1/2 medium tomato, thinly sliced

1 small to medium cucumber, peeled and thinly sliced

1 small white onion, thinly sliced (can be raw or sautéed)

1/4 cup cilantro

Jalapeno slices, for sandwich (optional)

Sweet relish, for sandwich (optional)

Kimchi, for sandwich (optional)

Soy sauce or tamari, for sandwich
Place chopped lemongrass in mortar & pestle and crush pieces until pulverized (you may also mince it if you don't have a mortar and pestle). Add 2 cloves of garlic in mortar and crush garlic together with lemongrass.  In large plastic freezer bag, combine crushed lemongrass and garlic, grapeseed oil, soy sauce, pepper and sesame oil. Mix the marinade well, then add slices of tofu in bag, being careful not to break them but coating well. Let marinate for at least an hour.
Heat pan to medium high and fry slices of tofu until both sides are golden brown and crispy. Let cool. Place mayonnaise and tomato slices on the bottom half of the baguettes, then tofu, then cucumbers, onions and cilantro (and any other optional fixings).