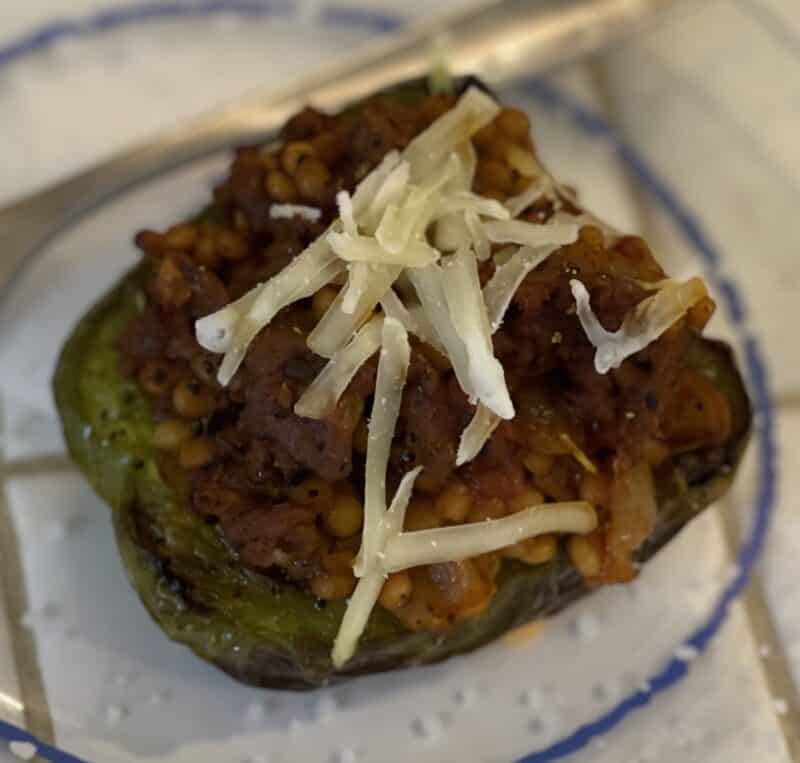 I have to say that this vegan stuffed peppers recipe is so good and hearty, it will put a smile on everyone's face at the dinner table and have them asking for seconds! Enjoy!
2 large Green Bell Peppers
½ cup Israeli Couscous
1 package of vegan Ground Beef
1 yellow onion, finely diced
1 roma tomato, diced
1 tablespoon Italian spice mix
Red peper flakes, to taste
1/3 cup vegetable stock
1.5 ounce Tomato Paste
½ cup vegan Mozzarella Cheese
2 tablespoon vegan butter
High heat oil
Salt and pepper
Adjust rack to middle position and preheat oven to 425 degrees.
Halve bell peppers lengthwise; remove stems and seeds. Place on a baking sheet and drizzle each half with oil; rub to coat. Season with salt and pepper. Roast until browned and softened, 18-20 minutes.
Meanwhile, melt the butter in a small pot over medium-high heat. Add couscous and a pinch of salt and pepper. Cook, stirring, until toasted, 2-3 minutes. Add 1½ cups water. Bring to a boil, then cover and reduce to a low simmer. Cook until couscous is tender, 6-8 minutes. Keep covered off heat.
Heat a drizzle of oil in a large, preferably ovenproof, pan over medium heat. Add onion and cook, stirring, until softened, 4-5 minutes. Add vegan ground beef and Italian spice, red pepper flakes; season with salt and pepper. Cook until browned and cooked through, 4-5 minutes.
Stir tomato paste and diced tomato into pan with beef mixture until thoroughly combined. Add stock; season with salt and pepper. Simmer until slightly thickened, 1-2 minutes. Stir in couscous until thoroughly combined. Turn off heat.
Once bell peppers are done, remove from oven and stuff each half with as much filling as will fit. Place in pan with remaining filling, nestling each stuffed pepper half into the mixture. If your pan isn't ovenproof, transfer mixture to a small baking dish and arrange stuffed pepper halves in there. Sprinkle evenly with vegan cheese.
Bake stuffed peppers on middle rack until cheese has melted, 3-4 minutes. Divide remaining filling between plates. Top with stuffed peppers and serve.