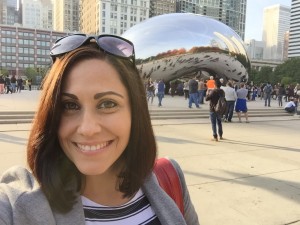 Chi town, the windy city…my kinda town, Chicago is! A metropolis that sits on the shores of Lake Michigan, Chicago is New York but in the middle ; ) Full of fabulous architecture, culture, sports, entertainment and nightlife, Chicago is also home to a pretty incredible food scene. From their famous Chicago style pizza and hotdogs to world class gourmet, vegans and gluten free diners also get to enjoy the tastes of the town!
First, let me start with an awesome eco-friendly hotel right smack in downtown. The newly refurbished Hotel Felix is Chicago's first eco-friendly and silver LEED certified hotel. With natural southern exposure, which aids in heating building in winter months, heating costs are kept low, the hotel also preserved building structure in re-development, which prevented non-biodegradable materials going to landfills. Al the exterior sculptures made from reclaimed materials, low energy-use lighting, such as compact fluorescent & LED is used throughout building, there is a "Recycling Room" used by the hotel to sort recyclables, only USGBC approved cleaning supplies that are earth friendly are used on the property, as well as use of free trade coffees and chocolates. As far as the rooms & accommodations here is the awesome list of eco-friendly attributes:
Carpet made of recycled material
Motion Sensor Heating, Ventilation and Air Conditioning in all guest rooms
Water waste reduction valve
Florescent lighting throughout the building
Linen reuse program in use
Full Recycling program in use
Enhanced energy management system
Laundry –

Eco Friendly Chemicals are used for cleaning room & linens
No bleach used
Products low VOC & Green Seal certified
The hotel also boasts a spa, fitness center and bar so your stay will not only be green and luxurious, it will be tasty and relaxing!
Ok, food time!
One of the most famed of veggie eateries in town is the Chicago Diner, and rightfully so! Since opening it's first location in 1983, this veggie diner has made the best veg comfort food in the biz. Be you veg, vegan, gluten free or none of the above, it's best to wear your elastic waisted pants when dining here because you will want everything on the menu! Serving breakfast, lunch, dinner and dessert all day, it's tough to make a decision so I recommend ordering one of each! No but, really, it's super fun, super tasty and should be a must on your dining list when in Chicago! Gotta start with the Reuben and a shake, order more after that!
For a really unique dining experience, check out Uncommon Ground. Not far from Wrigley Field, UG serves up some terrific seasonal, farm to table eats, vegan as well as non for anyone and everyone you may be dining with. With live music, an organic coffee house and bar, being a certified green restaurant, Uncommon Grounds is a home run! The vegan lasagna is rad ; )
With a similar vibe to Chicago Diner, Ground Control is another great place to grab brunch through din din in Chicago. The menu os quite different from the diner, perhaps a little less comfort foody and a tad bit more edgy, it's another great place to chow down. I happen to love the breakfast tacos, always a hot with me!
That's not all! Join me next week for some more Chicago vegan eats!