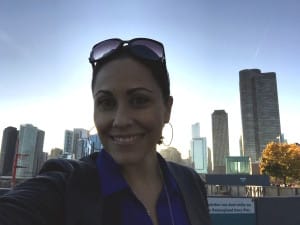 I could really go on for a bunch more posts on the awesome vegan food scene in Chicago but after this post, I'll wrap it up until my next jaunt to the Windy City where I'll make some updates on new goodies ; ) In the mean time, enjoy my first post and my second roundup in case you missed them before checking out these tasty morsels below!
Sure, Chicago can get pretty dang cold but you can beat the frost with the warm Asian Fusion menu at Amitabul. Fully vegan cuisine is what they serve and everything I tried is a hit! I devoured my Maha Pyogo which is a plethora of yummy mushrooms and veggies with rice. And I shared the spicy Veggie Pancakes along with a Seaweed salad. Needless to say, I left with a big smile on my face ; )
Who doesn't love soul food? It really is a feeling and an experience along with fun for your tastebuds. Original Soul Vegetarian does soul food right in Chicago! Serving up all vegan, natural, plant based soul food, it's a great choice for healthy comfort food!
Now, whenever I leave California to go to my hometown of Miami, I load up on Cuban food but I was delightfully surprised at the amount of Cuban food in Chicago! And Havana Grill did not disappoint. Load me up with some boiled yucca con mojo, platanos maduros, tostones, frijoles negros and rice and I'm a happy girl! Oh yeah, and a mojito is a welcomed addition ; )
Ok, so if you are looking for AMAZING food, Mana is THE fine dining locale for incredible vegan eats in Chicago. Recently given a Michelin Bib Gourmand award, it's no wonder top critics flock here. Serving premiere vegetarian cuisine, their vegan and gluten free menus are fab. What they do with plants is astounding and their organic cocktails are perfection! Not to be missed!
With two locations, Urban Vegan is a nice place to take a break and enjoy some good ol' vegan thai food. With your fave dishes along with some re-imagined vegan dishes (ie the cowboy wrap), whether it's curry or cauliflower, you'll be quite happy with your meal.
Well, that's a wrap on Chicago, this time around! I'll be back soon and I'll show up with an empty tummy to enjoy more great vegan eats!