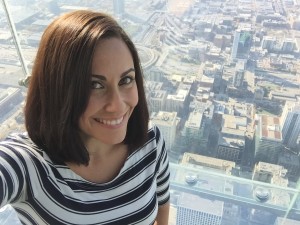 I'm back for some more good eats in the Windy City! If you missed my first round up, be sure to catch it here so you don't miss anything! As for this week, there's a lot more fun and deliciousness in store! Let's go!
If you're looking for the best view of the city, you can't beat the view from the Skydeck at the top of the Willis (formerly Sears) Tower! At first, you may think it's just a cool view but I have to say, stepping out onto a transparent floor with the entire city 99 floors below you is pretty unnerving! It takes a few awkward steps before you fully walk out and looking down is no joke! But once you regain your composure, it's a lot of fun and the photo opp is spectacular. It really is a great family experience and a thrill like no other!
After being suspended over the edge of the Willis Tower, I worked up an appetite and Kitchen 17 delivered a slam dunk meal. I had a hankering for a sandwich and their vegan gyro was a hit! My friend ordered the pest chick'n pizza and that was fab as well so I suggest heading over there when you're starved so you can load up!
A Chicago institution for over 20 years is Karyn's on Green. Stylish, chic and delicious, Karyn's serves incredible vegan fare as well as raw options and gluten free. Perfect for lunch or dinner, or even apps and cocktails, Karyn's is a must when in Chicago. Plus, if you're looking to make a day of it, check out Karyn's Fresh Corner and Day Spa for a healthy raw meal, fresh juice and a luxurious rubdown!
On my way to an appointment, I stumbled upon Chicago Raw. And I was stoked! They had a great little raw market with tasty to-go foods like raw ice cream and cheesecake to a damn delicious raw vegan tuna salad! They also make fresh juices, organic coffee and so much more to keep you healthy on the go!
I was delighted to find that my friends who make amazing seitan, Upton's Naturals, had a cool little eatery in town, Upton's Breakroom! Featuring their tasty goodies, they make sandwiches, brunch and other treats and even deliver to nearby areas!
Now, my biggest surprise was the fabulousness that is Eataly! I steered clear of the meat and cheese areas but man oh man, the vegetables, fresh baked breads and awesome cooking and home items blew my mind! I popped over to the on site vegetable butcher (yep!) as I sipped on my soy cappuccino while perusing the gourmet olive oils and balsamic vinegars. It is a chef's dream and I didn't want to wake up!
Hold tight, there is still more Chicago eats and vegan restaurants! See you next week!